Always back-up your emails and projects…you never know where the next problem will be!
I was all ready to post about a few social media ideas today but few things came up. So as I booted up my desktop all ready to power through all of these ideas I was confronted by the windows logo lasting a bit longer than normal.
A couple of restarts later I had to move to the famous Windows repair system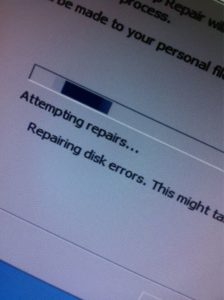 .
This has been whirling for about an hour now and all I can think about is the fact I haven't backup my emails for a while. Fingers crossed all will be ok.
Luckily for us webbies we all work online so files are backed up which would have been a major problem but let this be a polite remonder – always backup your work and emails. You never know when the next problem will be!
Hope you noticed I didn't use the phrase 'cloud'. Well lets be honest, 'the cloud' has been there since day 1. Its just the internet guys, lets not let marketing hype help us spend our money.
This post by Jonathan Reyes is worth reading, titled Why is the Google Privacy Policy So Bad?
Food for thought!