Meet
Ben

, our

Digital Marketing & PR Executive

, he can write a blog on just about anything..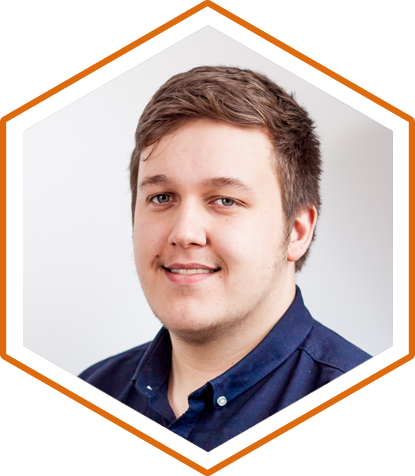 Ben looks after social campaigns, content and general PR for HeX and our clients. As our content accessibility specialist, Ben knows the ins and outs of how to make web content and social feeds as inclusive as possible. Ben enjoys the psychology behind marketing decisions, has a hidden talent you have to hear, and believes in living your best life because you're only here once.
Tell us about yourself and how you got to where you are now:
I'm HeX's all-round resident 'content monkey' and have been since early 2017. I caught the marketing bug whilst still at secondary school when I helped a family member upscale her shop's offline existence into an online presence. Having been largely self-taught, my next 'venture' was with a family friend who started an online clothing store focusing on bespoke graphics. I think it was at this point when I realised I enjoyed what I did and took a Business A-Level.
Whilst I learnt a hell of a lot at College, the classroom and restrictive environment were not for me – so, a year later, I got a digital marketing placement at a PR firm. After that, James and Zara entrusted me with social media, content, blogs and PR for HeX and our amazing clients. More than two years later and I'm still here – so I must be doing something right!
What does your average day consist of?
An average day? What is one of those!? Although, whatever it is, it generally involves some kind of writing. But generally, you can usually catch me creating blogs, posting on social media, creating email newsletters, writing web content or undertaking content accessibility audits. Usually for HeX, Accessibility Nottingham or our great clients!
With anything I do, it's always with accessibility in mind. Whether it's writing blogs that adhere to WCAG 2.1, writing social posts that are accessible or advising others on how to do it, embracing and shouting about HeX's accessibility journey is important to me!
In any spare moment, whilst there are very few, I'll be reading something about marketing – usually psychology-related; the human mind and how it responds to different things fascinates me and helps me make creative marketing decisions. When applying this to HeX and our clients, it allows me to focus on the User Experience of websites.
Who do you admire? Why?
I love the guys over at Yes Theory. Essentially, it's a movement about getting out of one's comfort zone and going out there and 'seeking discomfort' – saying Yes to the things you'd usually be too scared to. They use social media to spread their inspirational message about how they seek discomfort and challenge their followers to do the same. Off the back of this, I'm part of an 80,000 strong Facebook group whose aim is to support each other in the act of seeking discomfort. And it works! Whilst I've not made any major changes, those small changes that may seem uncomfortable can often be a stepping stone in becoming a better person.
What is something few people know about you?
I guess the one thing people don't know is perhaps that I can do impressions…I have a versatile voice! Also, back in my 'hay day' (before I discovered my love for food), I was quite a prolific swimmer.
I've also had a conversation with Ainsley Harriott about shoes…that was a weird one.
What toppings would you choose on a pizza?
It's got to the stage now where my local pizza takeaway know that I have a BBQ base, cheese, pepperoni, beef, doner meat, ham, red onions and stuffed crust pizza…and no, it's not on the menu. I call it the Ben Special.
What are your top three pet peeves?
Not to sound like the grumpy one in the HeX office, but I genuinely don't know where to begin. One of the biggest pet peeves for me is the improper use of the word 'literally', even thinking about it is making me mad! No, you're not 'literally dying' when you're laughing…you're figuratively dying.
Ignorance when it comes to accessibility really winds me up, too! I understand that not everyone knows the principles of accessibility, and how to implement it, but it's unnecessary to completely disregard it! Admit it if you're doing something wrong, and make a commitment to change it, that's far more respectable than ignoring it! Speaking of respect, my third would have to be a lack of respect. I am never disrespectful to people and when people fail to hold me to the same levels of respect, it's rude!
If you could be anywhere, where would you be?
I think I'd like to be in Sweden with my partner and my daughter, perhaps a cabin in the woods, with a log fire and looking out over a frozen lake. I think as much as I love and embrace technology, it would be nice to get away from the world sometimes and relax my mind completely with no distractions other than nature.
What would your personal motto be?
I have two mottos that I use in day to day life and at work. My favourite is 'You only live once, but if you do it right, once is enough.' – it's cringy, but, essentially, if you be the best person you can be, stay true to yourself and try and achieve everything you want to achieve, then you can die knowing that you have lived your best possible life. Similarly, the next one is about holding onto anger and is featured in a lot of Buddhist teachings and that is 'Holding on to anger is like drinking poison and expecting the other person to die.'