Meet
Tom

, our

Front-end Developer

, HeX's code connoisseur and front-end fancier..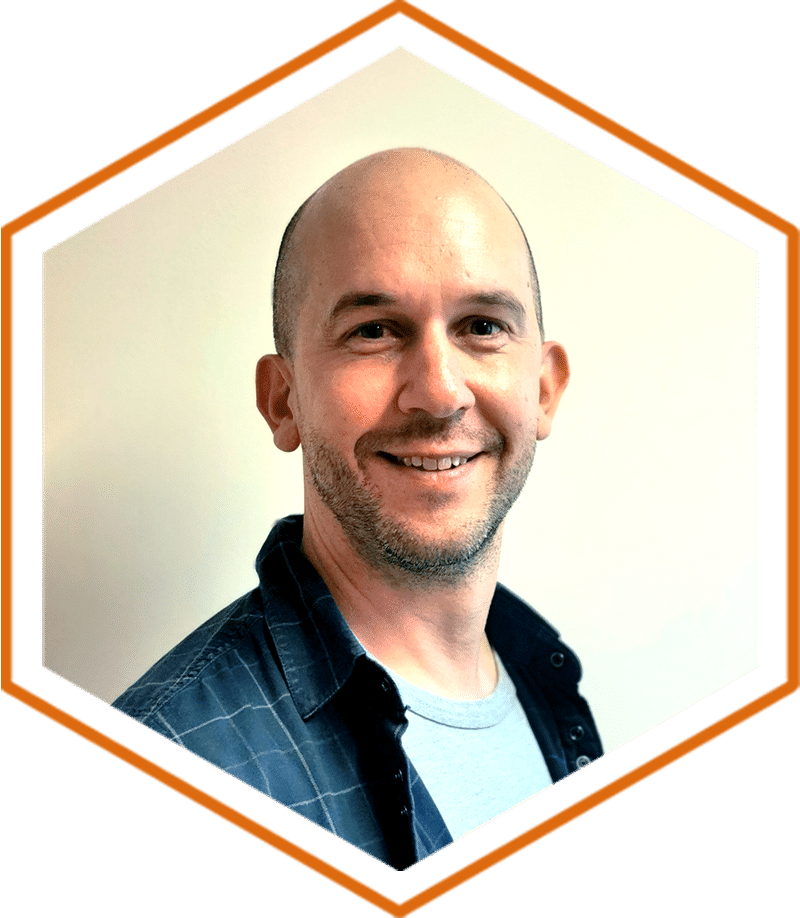 Tom is HeX's front-end developer, responsible for looking after our websites across the board. With the skills to wrangle WordPress and increment inclusivity, Tom knows how to create code that works like a charm, and sites that perform accessibly. He enjoys a walk in the Peak District with his partner and his whippet, Digby, but if Tom could be anywhere in the world, he'd be somewhere cold, white and sliding down a mountain on a wooden plank.
Tell us about yourself, and how you go to where you are now
Whilst web development has always interested me, it hasn't always been my specialism. I actually started out in the editorial industry managing a team of picture editors. In my spare time, I regularly played around with WordPress, assisting with family members' sites, and creating websites for friends.
I worked alongside a couple of developers at one point, as a stakeholder in a business, which I really enjoyed. I eventually decided to take the plunge, taking a three-month sabbatical from work to take part in a Javascript Bootcamp.
I was lucky to be in a position that I would be able to return and join the team as a graduate software engineer. However, after returning and working as a software engineer, I realised that working on the backend of websites perhaps wasn't for me. I was lucky enough to secure a position at another Nottingham agency and worked there for 13 months before joining HeX in August 2019.
What do you consider an important part of your role?
Things are always moving fast in development, so you've got to be able to learn quickly – not a day goes by that you don't learn something. But alongside that, you've got to have patience and be a bit methodical in the way you work – things don't always work the first time, so dealing with these frustrations is important.
Collaboration is key too, working as part of a wider team and making everything work is really rewarding. Seeing the finished product, the result of weeks of team collaboration is probably my favourite aspect of the job.
What do you enjoy doing in your spare time?
My partner and I spend the majority of our spare time walking our whippet, Digby. Living on the edge of Derbyshire, we've got the Peak District on our doorstep, so always take the opportunity to have a walk around Cromford, or if we're feeling energetic, we'll go round Hope Valley.
I'm also a keen mountain biker, I like taking myself off to Sherwood Pines and going around some of the trails there.
Who do you admire?
No one person in particular but I have admiration for anyone who has followed their passion in life and had the singular drive and determination to make a success of it, particularly in outdoor activities & adventuring. Names such as Jeremy Jones, Alex Honnold, Steve Backshall and Alastair Humphreys are all people I hugely admire and look up to.
What's something few people know about you?
I'm actually a keen snowboarder. I got into it fairly late, but my first attempt was certainly a baptism of fire, I'd done one day at Manchester Chill Factore before joining a few friends on a trip to Chamonix. They all left me behind and told me they'd meet me at the bottom!
Despite starting late, I've definitely made up for lost time, I mainly go to France, but have also been to Japan, and recently, Are in Sweden.
Favourite pizza topping?
Definitely anchovies – a pizza Napoli – with capers and black olives. Not your standard Margarita!
Favourite biscuit?
It has to be the classic Hobnob or something that's got a bit of crunch to it. I was going to say Jaffa Cake – but perhaps that's a bit too controversial…
Three pet peeves?
I never get too angsty about anything, but if I had to pick, the first one has to be lateness. I have a habit of being early for everything. Untidiness in another one, I can't stand mess. Professionally though, it would have to be people who are very set in their ways and refuse to try anything new – especially web developers who have a view that it's their way or the highway.
If you could be anywhere, where would you be?
Somewhere cold, white and on a plank of wood!
It doesn't even have to be Winter. Just somewhere in the mountains with a little bit of snow would be nice.
Do you have a motto?
I don't have any particular motto that I live my life by but tend to always stick to my values of honesty and integrity.