Why do you need BSL interpretation?
Our BSL translation services will help you communicate with the 180,000 people in the UK who use British Sign Language (BSL). Most of those users have severe hearing impairments or are profoundly Deaf. One-third of the world's population suffers from hearing loss.
Quite often, those with hearing loss can feel isolated with minimal access to the wider society and services. Communicating your services or information about your organisation to the Deaf community is not as simple as writing content and thinking that Deaf users, who communicate in British Sign Language, will be able to read it. 
British Sign Language is not the same as English
Many Deaf users who were taught British Sign Language (BSL) as a first language may struggle to read written English in the same way as an English speaker. BSL has a different grammatical structure than written English.
A simple example of the difference in English and BSL grammar structure is:
English: What is your name?
BSL: Your name what?
There are also no conjunctive words such as 'the, 'is', 'it' 'a' or 'at' used in British Sign Language.
The best way to communicate with this user group is to offer BSL interpretation of your organisation's videos and page content.
For what purposes can we provide BSL video interpretation?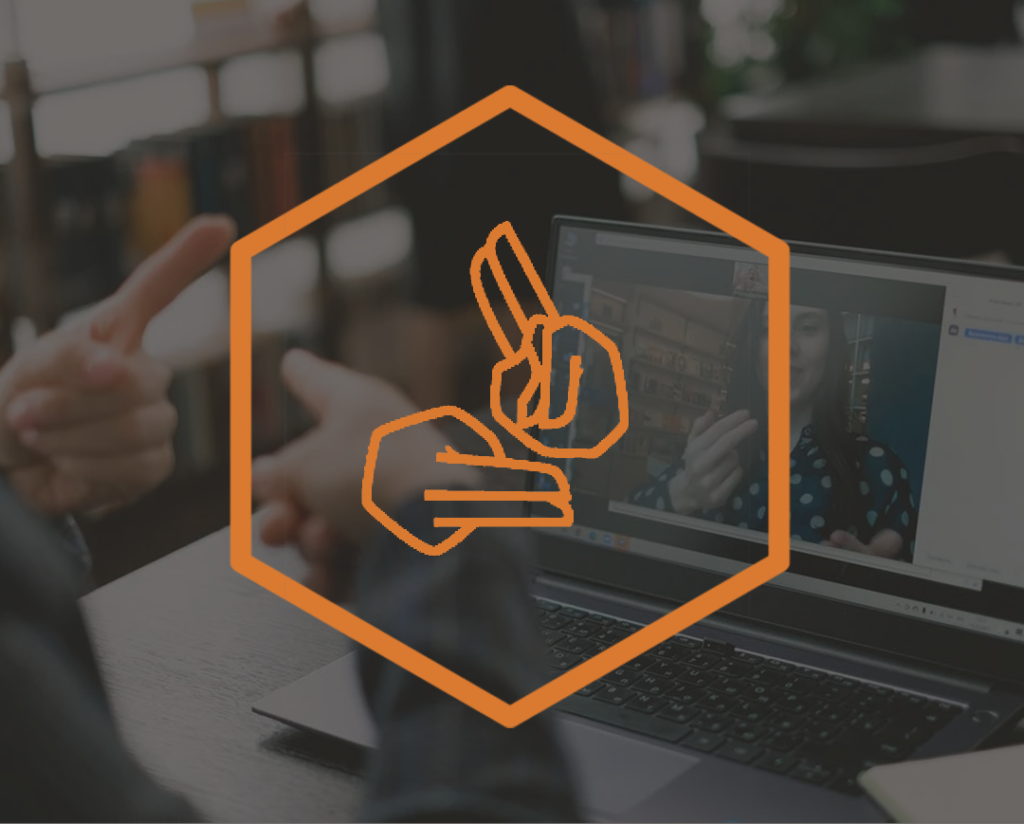 There are many ways we can offer additional access for hard or hearing and Deaf users. Our BSL translation services turn your content into British Sign Language. Here are a few ways we can help: 
Emergency BSL announcements
Many Deaf people have been excluded from receiving highly important and life-critical information. This is not acceptable. If you have public guidance information, this should always be produced in the language of your audience. We can provide a package to allow you to keep your important information up-to-date in a timely manner.
Translating web page content into BSL
When a Deaf user accesses your website, it's essential that you communicate with them in a way that they are most comfortable with. Often, this is not via written English; it's British Sign Language 
Your content pages may be causing barriers to access. Our BSL interpreters can help translate your written content into BSL video content that can be embedded into the page to provide an accessible method of communicating with your users. 
Providing BSL guidance on processes
Do you have a payment portal or sign-up method that may need explaining to users? Make sure Deaf people are not excluded from this information. 
Provide any instructions for Deaf users via BSL. This will help users to be independent and able to understand what the process involves and how to get the most out of it.
By taking the time to make your content and services accessible to the hard-of-hearing and Deaf community, you will maintain a loyal customer base that trusts you to provide them with the information they need.
Direct video translation into BSL
If you have a video on your website that you would like to translate into BSL, we can help with that.
Many Deaf users will not be able to understand existing captions on videos that you have produced; they may not be able to understand written English, the captions may move too quickly, or because the full sentence is not displayed, the grammatical structure can be confusing. For this reason, it's always worthwhile including the option to have a BSL translator produce a signed video of what is being said.
Next time you watch a video with subtitles, try to remember a sentence and say it back to yourself. Now try and restructure the sentence in your head to explain it in a different way. This is how a Deaf person has to interpret your content whilst trying to keep up with the flow of the conversation or narrative – which is virtually impossible.
How our BSL Translation Service works
Whether it's a site-wide translation, a single page of information, an emergency notification, or video content, our BSL interpreters will work with you to produce a sign language video of the most important content. 
Displaying BSL on your website
We have a number of options available for you to display BSL content on your website. We work on a green screen so that the background can be adapted to suit your needs, depending on your stage of production or particular requirements.
We can supply the raw footage of the translation on a green screen, enabling you to provide this to your video producers to overlay directly onto the video whilst in production
We can change the background to a solid colour or company branding to ensure the video meets your website's style once embedded onto a page of content
We can advise before you start filming a video, to ensure you are leaving enough space for the interpretation
We can inlay an existing video and create a surround for the interpretation to fit into
BSL Translation Services – Find Out More
If you'd like more details on our BSL translation services, please get in touch with our team. We're always happy to have a no-obligation chat to explain our services and answer any questions.