Meet
Scott

, our

Integrations & Projects Developer

, HeX's back-end integration aficionado and proficient project developer.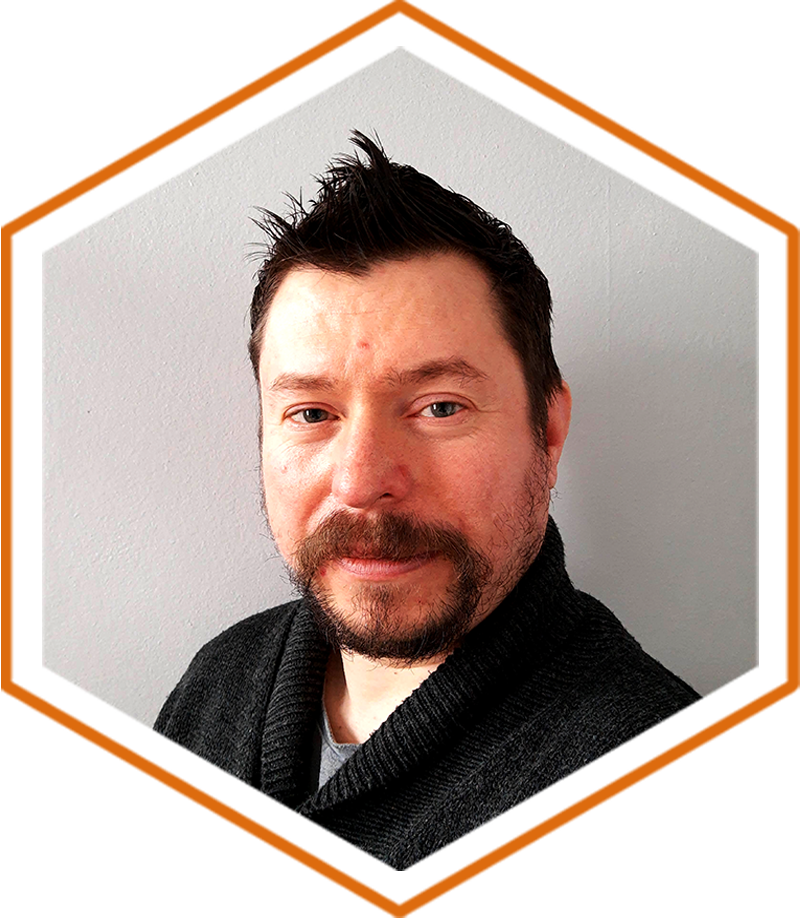 Scott is HeX's Integrations and Project Developer, responsible for developing integrations for both internal and external systems, as well as automating our processes. With a past in IT support, he loves thinking 'outside the box' to come up with creative solutions. He also loves a Sloppy Giuseppe pizza. He's a firm believer of learning from mistakes, and if he could be anywhere in the world he'd be somewhere remote but scenic, drinking whiskey from a tumbler, a bottle of imperial stout and/or a glass of wine!
Tell us about yourself and how you got to where you are now…
I've been an Integrations & Projects Developer at HeX Productions since November 2020.
I first became interested in website development in 1995 and have seen the internet grow and evolve considerably during that time. I've also worked within the education sector providing IT support, so I'm very much into thinking 'outside of the box' when it comes to analysing problems and suggesting temporary workarounds or long-term solutions.
Over the years, I've been exposed to many technical roles, skills and ideas, and therefore I'm keen to expand my development operations (DevOps) and business operations (BizOps) experience to help HeX Productions move to the next level.
What does your average day consist of (At HeX)?
My general role is to develop integrations for both internal and external systems, as well as helping the team embrace and implement automation into our project workflow. So far, I'm not sure any of my days can be considered average as the work is varied, flexible, and enjoyable, but it's also challenging too.
What's the favourite part of your job (At HeX)?
I absolutely love the camaraderie of the team at HeX. Even during difficult times, especially with the year 2020 providing these in abundance, everyone is helpful, optimistic and spurring each other on to achieve good works. With people like this around me, the future is bright!
Who do you admire?
Apart from HeX's James [Hall] who is someone I've highly respected since meeting in 2015, I admire my colleagues because we all seem to be open-minded and keen to continually improve ourselves. I also admire a few celebrities such as comedians Lee Evans and Rhod Gilbert, actor David Tennant, and some of my friends (and former work colleagues) such as Dan Davies and Jordan Wright.
What is something few people know about you?
I once played as a right-back at Derby County's old Baseball Ground during a charity match. I'm not a very good football player, but I think I did a good enough job that day to keep the opposition's winger quiet to the point whereby he was getting very frustrated with his team mates!
What toppings would you choose on a pizza?
I'm quite partial to a Sloppy Giuseppe, so I'd choose spicy beef, green peppers and red onion. At no point would I accept pineapple as a pizza topping as that's just wrong!
What are your top three pet peeves?
Firstly, snakes (no pun intended). But these are snakes in the proverbial sense, to describe people and/or companies who go behind your back to subvert, disrupt or discredit you for their own benefit and deflect attention from their own failings.
Secondly, like Zara, bad drivers really annoy me. Especially those driving high-powered German cars far too fast and cutting up other drivers. Yeah, I'm sure you know the ones.
Finally, poorly labelled food packaging. I can't tell you the number of times I've been angered by items labelled as 'Chicken Rice' only for it to have a significant portion of sweetcorn in it. That's 'Chicken & Sweetcorn Rice' in my humble opinion! The same goes for apple pie with surprise sultanas in it. Grrr!!!
If you could be anywhere, where would you be?
Somewhere remote, but scenic, whilst drinking a tumbler of whisky, a bottle of imperial stout and/or a glass of wine. I like my own peace and quiet sometimes, just gazing out at the beautiful views.
Personal Motto?
"Making mistakes is inevitable, but failing to learn from them is the biggest mistake you can make."