We're passionate about online accessibility, but on Disabled Access Day, it's time to log off and see what accessible attractions are in Nottingham.
If you've read our blogs, worked with us, or followed us, you'll know that here at HeX Productions, we're huge advocates of disabled access when it comes to digital services. But for Disabled Access Day, we're logging off and taking a walk around our great city to see what Disability-friendly Activities Nottingham has to offer in the way of physical access for disabled people.
We believe that bringing attention to those who aren't providing for disabled people is incredibly important, however, today is a day to celebrate those who are opening their arms to those with disabilities and enabling more people to use their facilities, making adaptions to the way they do things.
National Ice Centre
Nottingham's National Ice Centre, which includes Nottingham's Motorpoint Arena, is home to the famous ice hockey team, the Nottingham Panthers. To those with motor disabilities, ice skating can often seem like an unachievable dream.
Whilst this may be the case for some ice-skating centres, the National Ice Centre allows those with wheelchairs to attach skates to the bottom and enjoy the ice. Similarly, those with disabilities are able to pre-book a specialist sledge. They also provide sensory tours to help people familiarise themselves with the venue.
With accessible parking, entrances and facilities as well, this venue couldn't be any more equipped to accept those with disabilities.
Theatre Royal and Royal Concert Hall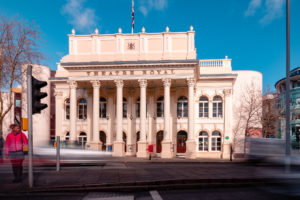 A short distance away from the HeX office, the Theatre Royal and Royal Concert Hall (TRCH) offers a huge range of performances, from theatre productions and comedians, to singers and speakers – the list is endless from the relatively unknown to the A-List celebrities.
For people who are blind, enjoying a theatre production, especially one with visual prompts and cues, can be extremely challenging and rather unenjoyable. However, TRCH solves this issue by providing performances that are audio described and even provide sensory tours for blind people to feel around and familiarise themselves with the set before the show.
They also use infra-red Sennheiser transmission system to relay sound to customers who are hard of hearing as well as headsets and neck loops. Some performances are also BSL interpreted for those who are Deaf. Dementia and cognitive impairment friendly performances are also available.
Nottingham Playhouse
Another one of Nottingham's performance venues, Nottingham Playhouse offers drama, music, dance and comedy throughout the year. But also cater for those with disabilities in many different ways.
For those of a sensitive nature, each performance includes notes and advisories that are worth bearing in mind when booking. Many performances are also frequently BSL interpreted and captioned. For those with visual impairment, audio descriptions and touch tours are available.
For those with cognitive impairments, relaxed performances and dementia-friendly performances are also made available. An accessible entrance and facilities make the Nottingham Playhouse one of the go-to places for accessible entertainment!
National Justice Museum
Making a historic piece of Nottingham fully accessible is a challenge, but the National Justice Museum are doing their best to open up the historic gaol and courtrooms to those with impairments.
Although it's recommended to contact them in advance, they will attempt to make the experience as accessible as possible. Unfortunately, motor disabilities are the most challenging, due to the historic nature of the building, steps are many and wide-open corridors are few.
The saving grace, however, is the provisions put in place to make it accessible for others which include a hearing loop, accessible toilets, audio guides, and virtual reality presentations.
Nottingham Contemporary
Described as "the most inspiring gallery in the UK" by The Guardian, Nottingham Contemporary showcases international art for everybody. As well as hosting events, learning programmes and research.
Whilst art is subjective, it needs to be seen to be understood and an accessible Nottingham Contemporary understands that, offering lift access to all floors and a disabled toilet with changing beds. Portable fold-up stools are also available to use around the galleries.
Not only does it cater to those with limited mobility, but people with visual impairments can also be provided with large-print information panels and guide dogs are welcome. Those with hearing impairments are also welcome, with hearing loops fitted in reception and The Space and hearing dogs are also welcome.
Attenborough Nature Centre & Reserve
A short way out of the city centre is Attenborough Nature Centre and Reserve, a large nature reserve filled with wild birds and lovely lakeside walks and wildlife trails.
For those with limited mobility, the nature reserve and centre is a great way to enjoy the outdoors and nature. All on one level, it provides an easy way to enjoy lakeside views and nature. Although, it's recommended to call ahead of your visit to make sure no paths are blocked by flooding.
Accessible toilets in the centre are available, as is accessible parking close by – a wheelchair can be borrowed to get between your vehicle and the centre. A hearing loop is also available in the Conference Room for those who are hearing impaired.
Wollaton Hall
Wollaton Hall is a spectacular Grade 1 listed Elizabethan mansion and deer park on the outskirts of Nottingham. Located inside is the Natural History Museum housing wildlife exhibits.
According to the website, staff are always keen to help the public make the most out of their visit to the hall and gardens. For those with bespoke needs or limited mobility, they offer free blue badge parking, lift access to gallery floors and toilets which has an accessible toilet and other accessible toilets across the property.
Induction loop access is available across the site, and sensory experiences are available in the gardens. Manual wheelchairs are also available to borrow from Wollaton Hall.
You may notice that there are a number of accessible Nottingham attractions that are missed off this list. If you think a venue deserves to be on this list, please tweet us @HeX_Productions or get in touch and we'll add it – but only if it's accessible!