HeX-tra! HeX-tra! It's the second edition of the HeX Newsletter. This week it's been all about Accessibility, terminalfour and Deaf Access!
Welcome back to the second edition of the HeX Productions fortnightly news, covering everything that's happened over the last two weeks.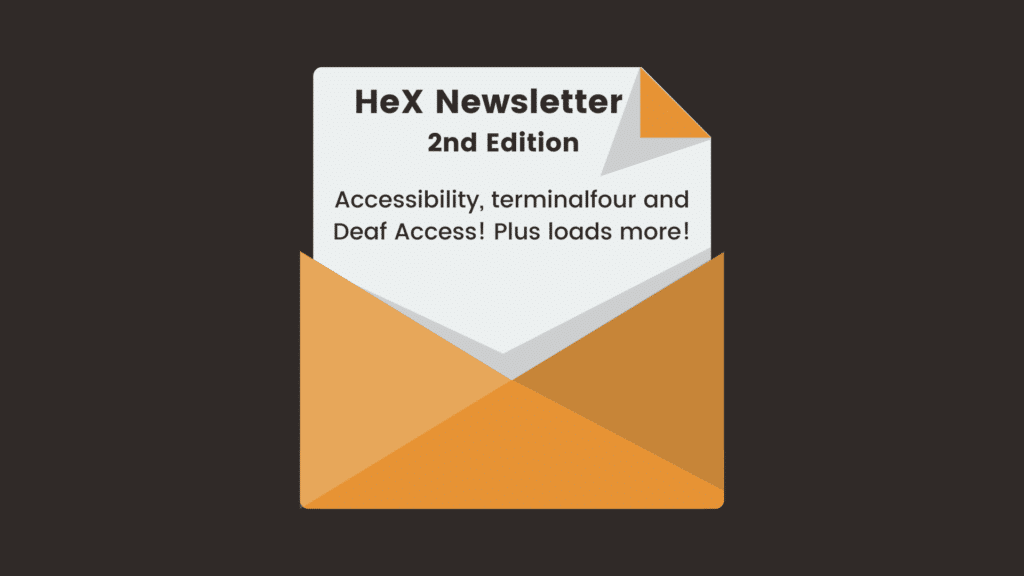 Celebrating all of our wins, exciting things that have taken place over the last couple of weeks, and some things that you might be intrigued about!
So, what have we been up to?
British Sign Language
A double bill of Sign Language Level 1 lessons for the HeX team over the past two weeks. We can now introduce ourselves, tell you all about our family, tell you the colour of different items and count to thirty…plus loads of other things.
It's incredible how far we've come over the past three weeks, and we can't wait to learn plenty more.
Accessibility Nottingham
We had our 6th instalment of Accessibility Nottingham last week, the talks from Lucy Ruck at the Business Disability Forum and Sam Coulson from Sight and Sound Technology were fantastic!
Our next event will be on the 19th November 2019. You can find out more about the next Accessibility Nottingham here.
Video Development
Our developer, Tom, has been working on a new feature of our site, and one that can be implemented across our client websites. The feature will allow content editors to upload a video to a website, and then create buttons that skip to the section of the video that has been specified.
It's difficult to explain until you see it in action. Thankfully, you can keep your eyes peeled for some explainer blogs from Tom in the coming weeks!
Shaw Trust Accessibility Services
This week we've also been preparing for a visit to Shaw Trust Accessibility Services in Neath next week. We'll be taking our good friends, Content Design London down there with us and introducing them to the Shaw Trust Accessibility Services team.
We're looking forward to seeing everyone there again!
Sign Solutions
We'll be welcoming Sophie Kang, Business Development Manager at Sign Solutions UK to our next Accessibility Nottingham meet-up to give a talk about Deaf access. We are also excited to be working with Sign Solutions to allow Deaf users and clients to contact us free of charge using Sign Solutions' services embedded on our contact page. This means that Deaf users will be connected to a video relay with a BSL interpreter, meaning they will be able to communicate with us.
terminalfour (T4) Work
As always, we've been supporting our partners, terminalfour (T4) in the delivery of web projects. T4 is a content management system (CMS) targeted towards Higher Education providers, and we're incredibly proud to be Certified Partners.
Exciting Meetings
We've had some great meetings in the last couple of weeks, here's a few that we can talk about:
Had some great catch-up meetings with Broxtowe Borough Council and Rushcliffe Borough Council regarding their websites, including work towards accessibility accreditation.
We've been meeting lots of education providers in the local area to talk to them about accessibility – it's great to see higher education providers taking a proactive approach when it comes to accessibility!
We have also been building relationships with a number of public sector organisations around the UK and looking at working with them in the future to help provide an end-to-end delivery model in line with the Public Sector Accessibility regulations.
We met the lovely people from Confetti Institute of Technology in Nottingham to talk about taking on two work placement students, continuing our goal to get more students into work and retain talent in Nottingham.
Round-Up
That's it for these last couple of weeks, but it's a great opportunity to praise public sector organisations and higher education providers on their commitment to accessibility. We've had plenty of people come to us with an active interest in accessibility and a drive to change the way their sites currently operate. It's great to see!
If you are concerned about accessibility in your public sector organisation and want to understand what to do next, get in touch with us – we can help!
It's been a fantastic fortnight, and we can't wait for next week to see our friends at Shaw Trust and Content Design London.
See you next time!