Facebook and Instagram attract billions of users on a monthly basis. But, what accessibility provisions does Facebook and Instagram have, and how can you utilise them?
Facebook was launched back in 2004 in an attempt to connect students who were studying at Harvard University. This soon grew to include many other universities across the United States.
Now, Facebook has grown exponentially around the world and has become a hub to connect with friends, family, colleagues and ex classmates. Facebook boasts a whopping 2.6 billion monthly active users as of January – March 2020. Making it the largest of all the social media platforms.
Facebook buyout of Instagram
In 2012, Facebook was rapidly becoming a multi-billion-dollar social media site. To further enhance its offering, Facebook bought out image sharing social platform, Instagram, for more than $1 billion.
Instagram itself now boasts over 1 billion active monthly users.
Facebook has owned Instagram ever since, so it makes sense to talk about the accessibility of both of these social platforms in the same blog. Quite surprisingly they differ quite considerably.
Images
Images on Facebook
29.6% of marketers surveyed by Databox said that images drive more clicks, so it's understandable why you'd want to upload images. Communicating them to the blind and visually impaired community is vital. Blind users who use screen readers rely on alt text to understand the context of your images.
Thankfully, you can make Facebook Posts accessible using the alt text feature that allows users to add alt text to any picture they are uploading.
In the usual Create post section, click the edit photo icon on the image
You will be taken to an edit screen, the fourth option on the sidebar allows you to add an alt text.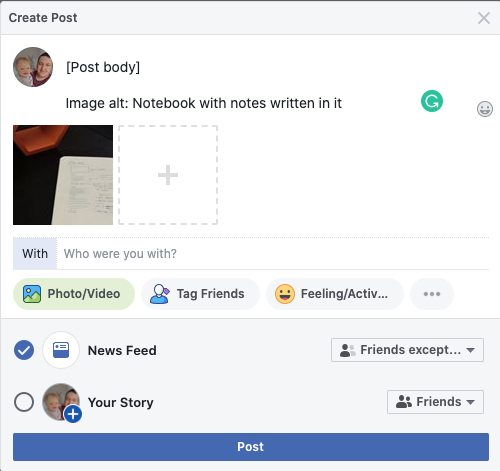 Just adding an alt text may not be enough, though. If your image is unclear, those with visual impairments who do not use a screen reader may also struggle to see the image. This is why describing the image in the body of the Facebook post may be preferable.
Images on Instagram
As an image sharing site, it's of the utmost importance to make sure the images being uploaded include alt text.
Luckily Instagram has a feature that allows you to do this.
GIFs
GIFs on Facebook
Graphics Interchange Format media, or GIFs as they are more commonly known, are perfect for Facebook. However, blind and visually impaired users are unable to understand GIFs without additional alt text.
Unfortunately, Facebook does not have any default way to add any alt text. The best way to include alt text on your Facebook is to do it within the body of the post, as described above in the Images section of the blog.
GIFs on Instagram
GIFs are not currently used on Instagram.
Videos on Facebook
The average engagement rate for videos on Facebook is 6%. Video has more than double the engagement rate of images and text (3%). Over the past number of years, there has been an increasing focus on video on Facebook. So much so, the user interface is designed to prioritise videos.
Captions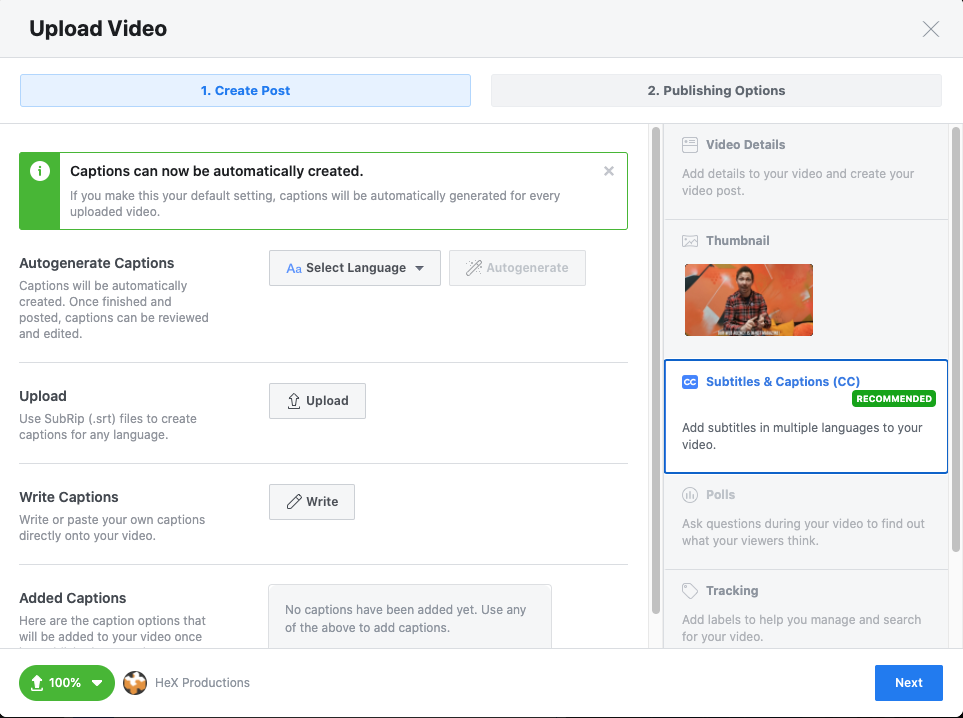 Captioning on Facebook is really easy if you have a caption file (.srt file). This can be obtained through uploading your video to YouTube, editing the auto-generated captions, and then downloading the srt file.
When uploading a video to Facebook, all you have to do is attach the relevant caption file, and Facebook will display captions for the video. Alternatively, you will need to caption your video via the editing software you use.
We don't recommend using Facebook's auto-generated captions as these can cause issues. It's always best to create the captions yourself, ensuring they make sense.
Audio description
Audio descriptions are often forgotten about when it comes to video. Audio descriptions describe the actions that are taking place in a video in-between the dialogue. This helps blind and visually impaired users.
You can find a great example of an audio described video here.
Facebook does not currently have the ability to upload audio descriptions via their service. However, you are able to upload a separate audio described video to the platform. Alternatively, you should include a link to a version of the video which includes audio descriptions.
Sign language interpretation
There are more than 180,000 Deaf people in the UK who communicate using British Sign Language as their first language.
Facebook does not have the ability to add a separate sign language interpreted version of the video, so it's best to do this in your video editing software. You can then upload the interpreted version to Facebook.
Videos on Instagram
On the native Instagram app, there is much less functionality than there is on Facebook. Instagram does not support captions, audio descriptions or sign language to be done directly in the app.
If you are planning on uploading a video to Instagram, it's recommended that you carry out all of the accessibility amends in your editing software.
Emojis on Facebook and Instagram
Using emojis is a great way to communicate the sentiment of a post. Clear emojis can even help those with processing and learning difficulties.
Using excessive emojis can cause an issue though. Screen readers read out each emoji individually. This issue has been explained fully in our blog about Accessibility on Twitter.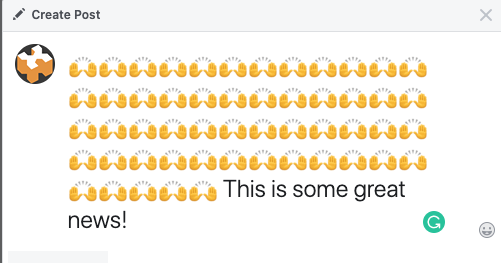 If you have a post like the post that is pictured, the screen reader will read out each emoji individually. It will read out "Person raising both hands in celebration" for each.
Accessibility on Instagram and Facebook
Whilst Facebook owns the majority of Instagram, it's clear that there are far fewer accessibility provisions on Instagram. As a predominantly visual platform, the lack of accessibility provisions for video content is quite surprising.
Both platforms seemed to have mastered image alt text, albeit Instagram's being hidden away in Advanced Settings, which is far from ideal.
Facebook takes the top spot for accessibility provisions if we compare the two, with much more consideration being put on adding in accessibility during the upload process. We can only hope that this will be mirrored on Instagram and in further feature updates on both platforms.