Our work experience placement, Emily, rounds up her week by telling us all she's learned about HeX Productions.
Throughout my week at HeX, during work experience, I have done a variety of different tasks. This has been from researching about HeX, in order to write my first blog, to learning how to plan and start to create a website.
I have enjoyed learning about all of the parts you need in a website in order to create one. Throughout the week I have felt supported by HeX's Accessibility Director, Zara.
What did I learn about Web Content Accessibility Guidelines (WCAG)?
The Web Content Accessibility Guidelines are a set of requirements that are used internationally to measure how accessible your website actually is. The word 'accessible' in this context is formally referred to as to how inclusive your content is, for example, how easy it is for people to use, e.g. blind users and keyboard-only users.
WCAG is developed by the World Web Consortium. These guidelines measure how accessible your website is through 3-tiered Levels – Level A, Level AA and Level AAA. These types of standards are reviewed from a variety of different perspectives and should be considered by: 
Web developers
Digital marketers
Web content authors
There are four principles that need to be followed when creating an accessible website. These key principles come under the acronym of P.O.U.R, which stands for Perceivable, Operable, Understandable and Robust.
What do all of these key features actually mean in depth? 
Perceivable: Information must be presented in a way that any user can perceive. This means that your content should not be invisible to any senses, meaning that all of your content must be presented in a variety of different formats, so it is available to the senses of disabled people.

Operable: Your website and user interface needs to be operable for everyone regardless of the circumstance. Meaning that within your interface there should not be any features on your website that certain users cannot access or perform a function on.

Understandable: On top of your website being operable, users should easily be able to understand any information that is on your site.

Robust: Your content must be enough that it can be interpreted by a variety of agents. Meaning that your website needs to be compatible with a variety of platforms and also with a variety of technology.
What did I learn about content design?
Content design is a combination of writing and analytical skills, it is also about using data and evidence to meet any user's needs. There are many beliefs around the population as to what content design actually is; however, the best way to describe content design is the quote from Nigel Jones, "Content design is a way of thinking. It's about using data and evidence to give people the content they need in the format they need at the right place and the right time." Which I think sums up the proper definition of content design.
Content design covers many areas, including a title of a page, headings, image captions, email subject lines, meta-descriptions, GIFs, videos, podcasts, links, spellings, grammar, lists and much more.
When doing content design, you will need to work with disciplines such as project managers, user researchers, service designers, interaction designers and delivery managers. You will need to have a variety of main skills, these include, understanding the topic, ability to maintain good relationships and you will need to have the ability to work quickly.
What did I learn about service design?
Service design is like an example of a coffee shop. For example, shop A does not have the requirements that the users need, whereas shop B puts their customers at the heart of every experience. Service design also involves immersive research to get to know their customer before, during and after. At the end of it the company discovers the highs and the lows of the experience and starts to explore some solutions in order to meet the customer's needs.
Another example of service design is; it's the activity of planning and arranging people, infrastructure, communication and its material components in order to improve its quality and interaction with its service provider and its users. 
What did I learn about brand guidelines?
Brand guidelines are a guide as to how to use the elements of your branding. When updating any kind of existing brand identity, it is very important to consider how thorough your brand guidelines are. Brand guidelines very often cover, tone of voice, logo uses, prohibited uses of logos, colour palette, typography, photography and how the brand should be used for print and web.
Branding guidelines must be an essential part of any business's brand identity to ensure that your company's image is communicated effectively and efficiently. It also needs to ensure that the image is presented in the correct manner. If at any stage, you rebrand or you have created a new brand from the beginning, you should specify that you would like brand guidelines to support your brand identity. 
This would be essential for future business goals and can also help with marketing, printing, social media and building a website. 
What did I learn about wireframing?
A wireframe is a diagram or a set of diagrams that consists of simple lines and shapes representing the skeleton of a website or an application's user interface (UI) and core functionality. Another example of wireframing is that it breaks the website down into different stages of designing the website in order to keep the stages organised.
What did I learn about WordPress?
WordPress is a system software which is free, and it is developed by the WordPress foundation. This operating system was developed 19 years ago. WordPress is also a Content Management System (CMS) which enables you to host and build websites. I have learned how to add text, images and videos into a web page.
A sneak peek into my website planning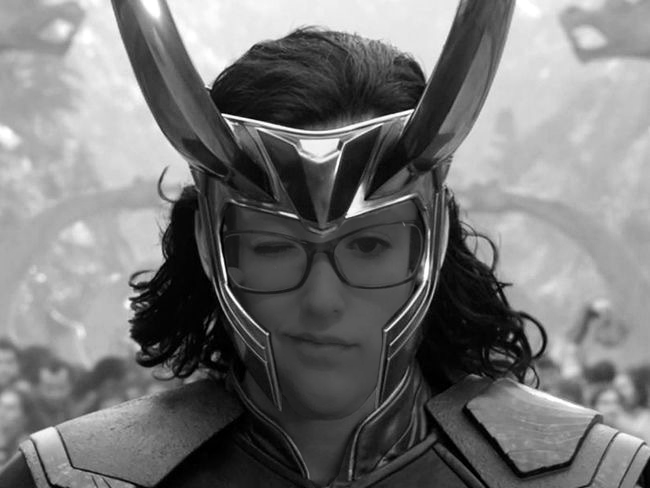 The purpose of my platform is to get the point across about the importance of Marvel and how different characters have their own personality. Not only this, I wanted to get across something that isn't mentioned enough, which is how much Marvel cares about mental health and how the characters relate in that sort of sense. 
I have also thought about other things I could use my website for and what is important in a website. This includes:
Name for the website – https://professorEmilyLaufeyson.co.uk.
Target audience – teenagers and adults.
Raising awareness on things you are passionate about – I am thoroughly passionate about how Marvel cares about mental health.
Make a certain part of the website dedicated to a movie or experience and review the situation.
Create a website which is centred around your favourite film or miniseries content.
Quotes – famous and relevant from that movie.
Target audience – making sure that it is fun, but also educational and maintaining relevant backgrounds towards the audience about the event at that moment in time.
The use of humour
Focusing on other specific areas e.g. topics such as, Belgium, mock interviews, and the Sixth Form Centre Day.
Bio – what I like, my hobbies, and who I am.
Allow to navigate different sections of the website.
Portfolio to showcase my work.
Maintain a CV.
Photos from Pexels.
Menu – different key topics.
Relevant content and visual styles.
The use of high visual and good quality images.
Relevant content focusing on a specific area in that topic.
Opinion – what my view points were when in that key event.
Maintain a good 'connection' and engagement with the audience.
Final words…
So, overall I have enjoyed every second of this week, and I am very lucky to have been able to do this as my work experience placement!
Thank you to Zara and the team at Hex Productions for allowing me to be a part of this journey and allowing me to explore what 'working' at Hex Productions is like.