The team at HeX Productions, are absolutely delighted to announce that we have been nominated as finalists in the Nottingham Post Business Awards' for the Excellence in Innovation category.
The team at HeX Productions, are absolutely delighted to announce that we have been nominated as finalists in the Nottingham Post Business Awards for the Excellence in the Innovation category.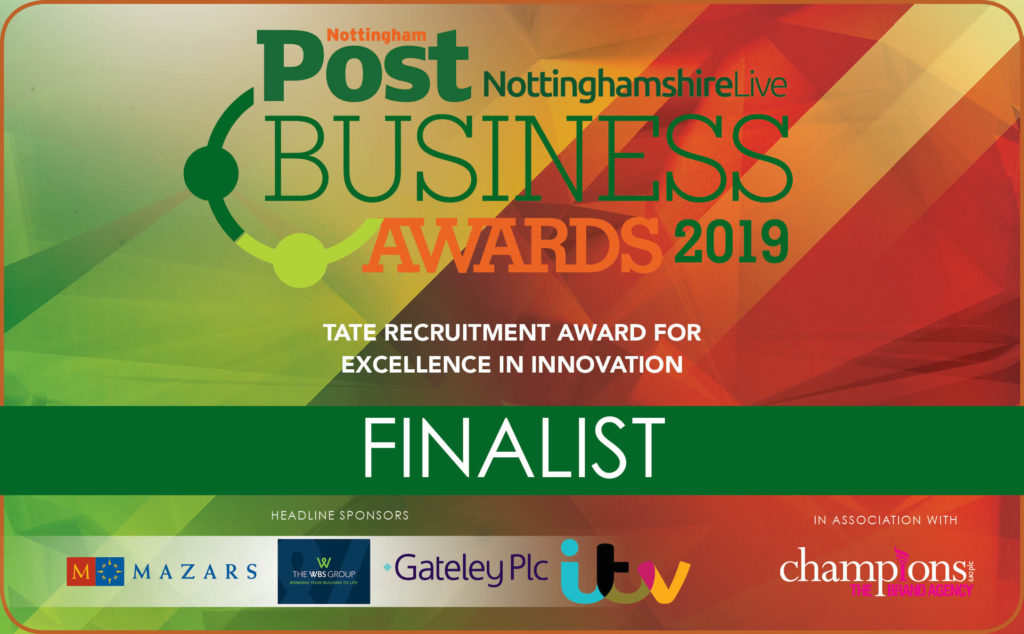 The Nottingham Post Business Awards
The award, sponsored by Nottingham firm, Tate Recruitment, is open to any business in the Nottinghamshire area that has shown innovation by bringing a new product or service to market that is considered innovative and sustainable to the business in its current industry.
Back in February, we put forward our end-to-end web and digital marketing service that has usability in mind. Through partnering with the Shaw Trust Accessibility Services, we have been able to deliver web projects that are tested by those with physical and cognitive impairments, using the knowledge and feedback of real users to make improvements to the web development industry as a whole.
Our Journey
Our journey with Shaw Trust Accessibility Services originally started back in September 2017. We visited them whilst they were carrying out accessibility tests on a website, we had helped to develop for a Nottinghamshire public sector client. From that day, after witnessing a blind man using screen-reading technology, we changed our practices and processes to ensure we are building accessible websites, becoming a fully accessible digital agency; one of the first in the UK.
Since our visit to Shaw Trust, we have built a solid reputation for our accessibility knowledge and know-how and are committed to creating accessible websites – anything less than accessible will simply not do! Our expertise has even been requested by the Home Office and the Government Digital Services (GDS), in the form of consultation on The Public Sector Bodies (Websites and Mobile Applications) (No.2) Accessibility Regulations 2018, legislation requiring all public sector websites to be accessible.
With the pressure mounting for local authorities to become accessible, we needed to create a service that could be streamlined to be rolled out on any kind of web project, which would include testing, development and accreditation. While we were more than comfortable carrying out web development, we did not have the resources to carry out the real-life disabled user testing or accreditation. That's when we approached our friends at Shaw Trust Accessibility Services.
Less than a year on, we have an end-to-end accessible web solution for local authorities, higher education, small businesses and large commercial organisations. We promise to develop their website to comply with the Web Content Accessibility Guidelines (WCAG), that have been developed by the World Wide Web Consortium.
Making headway in the accessible community
Consulting on legislation and developing innovative products is not all we've done. In our quest to be genuinely innovative and inclusive advocates for accessibility, our Accessibility Director, Zara has formed part of a trailblazer group, working on the development of an Accessibility Apprenticeship Standard, along with the likes of the RNIB, Atos, Barclays, Lloyds, Shell and Scope.
Our Creative Director, James, has been around the world to do talks about accessibility at numerous events, including venues in New York (USA), Boston (USA), Amsterdam, London, Freiburg and many more! Speaking in front of hundreds of industry experts from around the world.
James also spoke at our own event, Accessibility Nottingham, which we set up during the last six months of 2018. This event attracted developers, business owners and content creators from across Nottingham and the East Midlands to learn more about accessibility. Keynote speakers were also not in short supply with Shaw Trust themselves talking about the accessibility testing process, and Sean Gilroy from BBC Cape speaking about their work in creating an environment with neurodiversity in mind.
Bringing Accessibility to Nottingham
We're incredibly thankful to be finalists in the Nottingham Post Business Awards and are extremely glad that mainstream awards are paying attention to accessibility and considering it an innovation. For far too long, people have seen inclusion as an option rather than a necessity. We're here to bring the case for accessibility to the businesses of Nottingham, and we want to believe in a world that caters for disabled people both physically and digitally.
We urge anyone who is unsure of how to create an accessible website to get in touch.