Case study brief: Wiltshire Service Users' (WSUN) Autism Hub
The Wiltshire Service Users' Network (WSUN) is a user-led organisation. WSUN provides support and gives a voice to those who use health and social services. 
WSUN required an Autism Hub building, linking to their main website. The Hub needed to create accessible information for those with autism, their families, and carers. 
The Cooperative of practitioners from DOT PROJECT created WSUN's prototype design work. Armed with these prototypes and a design brief, HeX adapted and streamlined these plans. Building a mobile-friendly, accessible, and easy to navigate Hub. 
The Autism Hub's outcome supports people in gaining independence, helping them to achieve set goals, and provides peer support.
Vital autistic user group feedback made this case study unique
Though we have created hubs in the past, such as the Southwark Wellbeing Hub, this was our first website specifically focused around autism. 
We worked closely together with the team at WSUN, gaining vital feedback on each step of the development process. This feedback was provided by a user-group, consisting of autistic individuals who would be using the site upon project completion. By working together, we co-produced a simplistic, user-friendly, and accessible Hub that is tailored specifically around autistic user needs. 
HeX are proud to have built this unique Autism Hub. Empowering autistic users in becoming self-sufficient and gaining access to vital support services. Whilst providing healthcare specialists with a clear route to the information they require.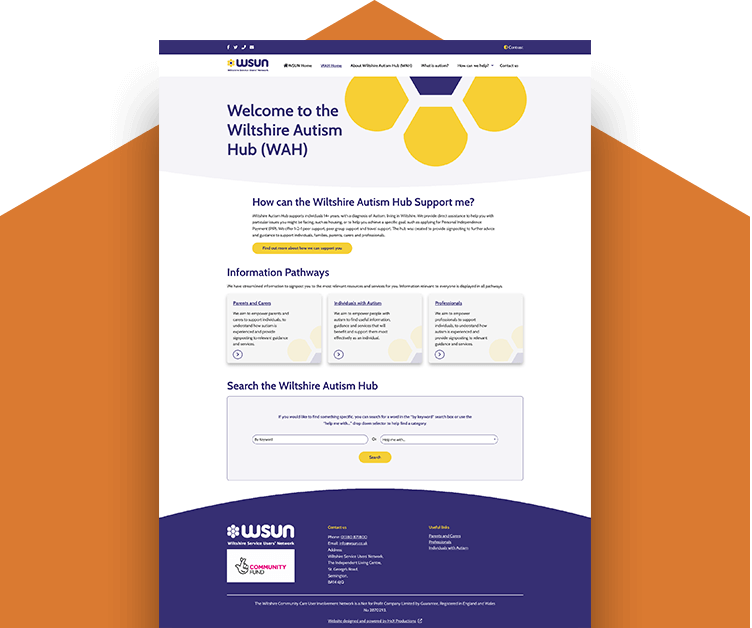 ---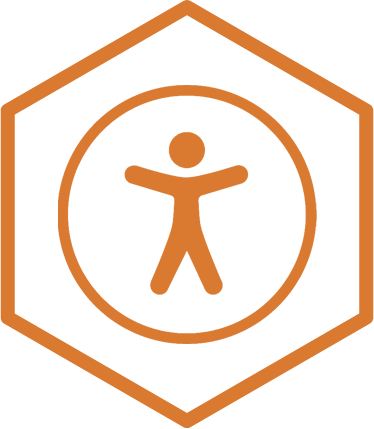 Key web design and development activities
Accessible design work and wireframe creation, adhering to the initial WSUN prototype brief
User-feedback, optimising the user journey for those with autism.
Content support
Implementing inclusive design work on the main WSUN website
Ongoing development support
---
WSUN design brief and user discovery prototype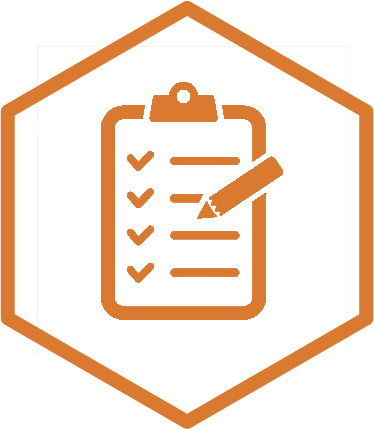 It's always a pleasure for our team when we receive a clear vision of the goals that our clients are trying to achieve. WSUN provided a digital brief outlining the:
Hubs target audience
Services that they provide
Need for an easy-to-use search facility
Need for clear signposting of internal and external support services
Accessibility challenges that they had faced
Requirement for the Hub to be mobile-friendly
Difficulty staff had endured updating their previous website
Examples of other similar Hubs that they admired
A discovery phase prototype had already been undertaken by DOT PROJECT. This displayed a clear insight into the user journey that they were hoping to accomplish. The prototype provided our team with a great starting point to build upon in the design and development process.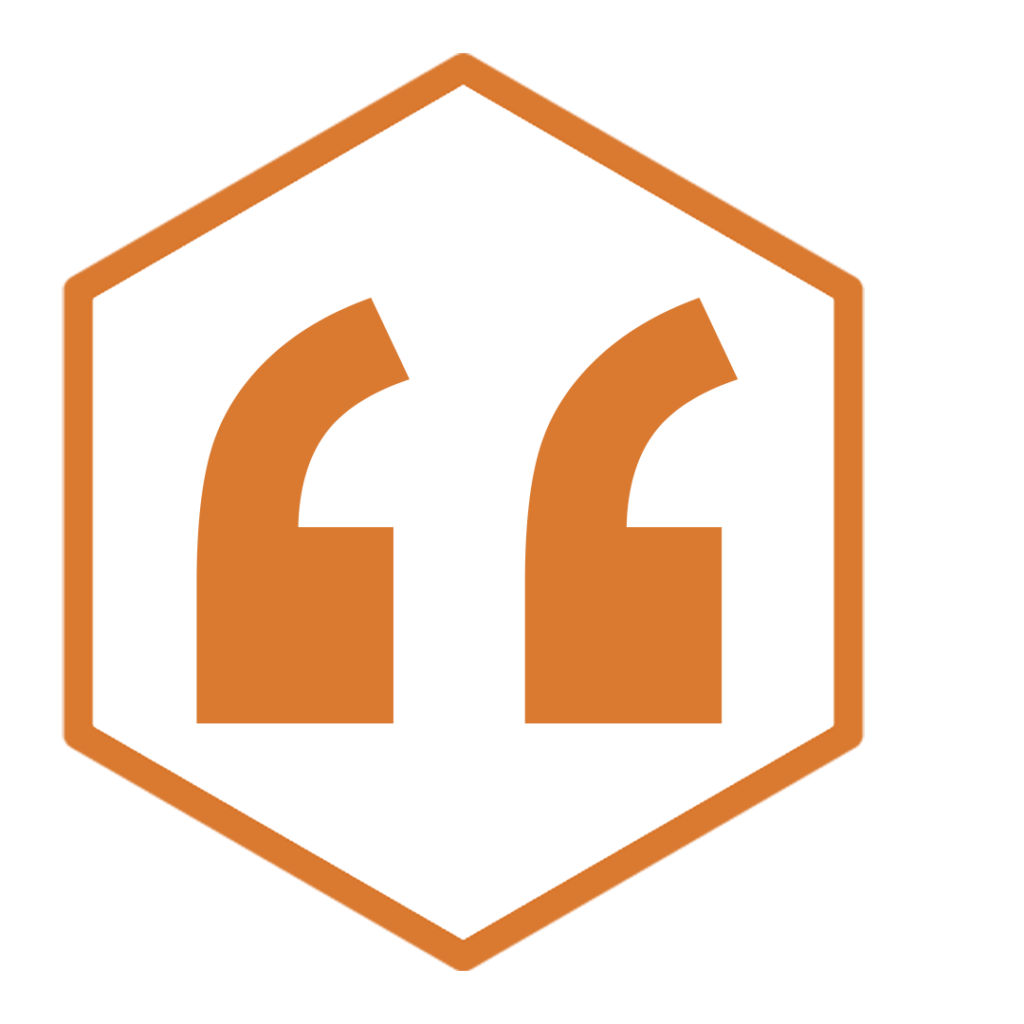 The team understood that we were not experts in designing websites. They were knowledgeable, accessible, and understanding. Working with us through each design and development step.
Louise Rendel: Wiltshire Service Users' Network CEO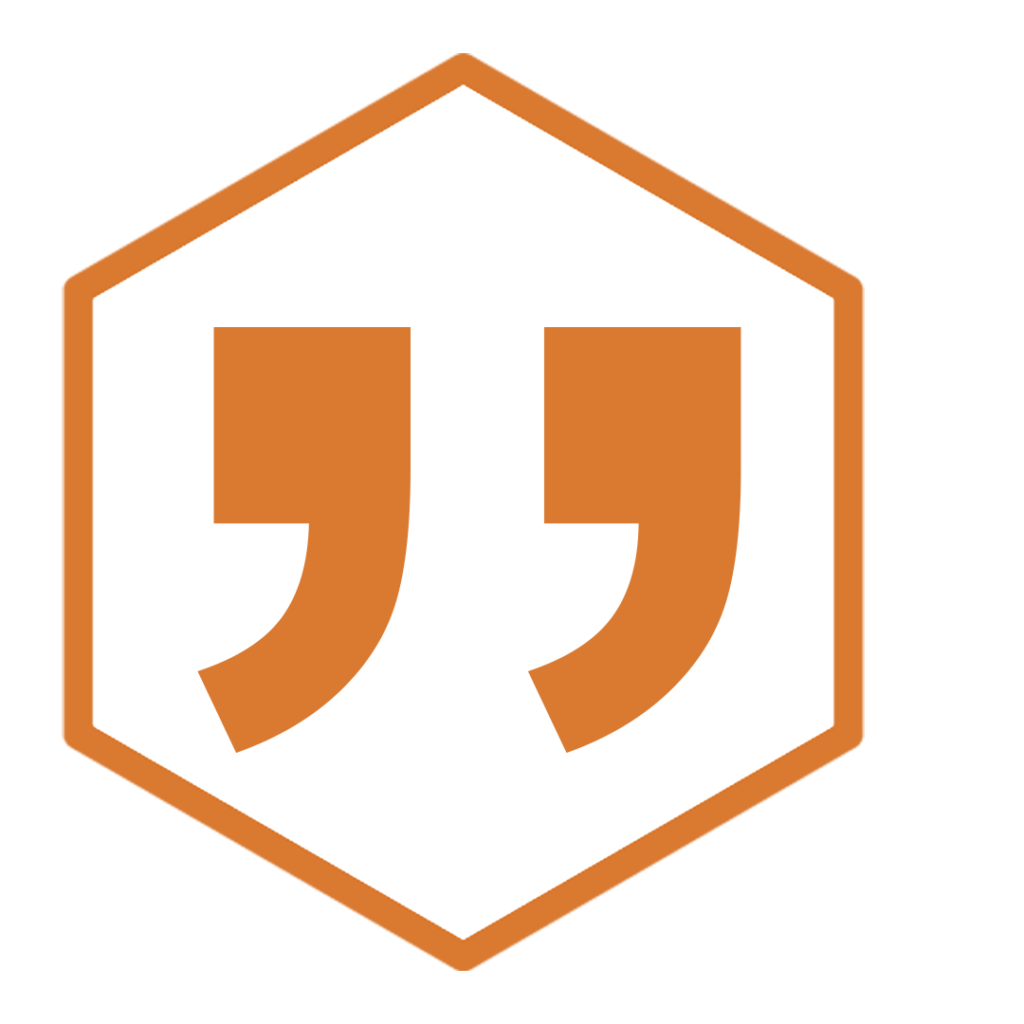 ---
Defining the Autism Hub's user journey
HeX set to work studying different types of healthcare hubs. This research helped in optimising the most logical and streamlined user journey map for those with autism.
Working alongside the initial WSUN brief and prototype work, we identified three main user journey pathways:
Individuals with Autism: Providing guidance and service information to effectively support individual users.
Parents and Carers: Empowering parents and carers to offer support, by accessing relevant autism guidance. With clear access signposted family support services.
Professionals: Providing tailored guidance for professionals, along with personal development and training resources.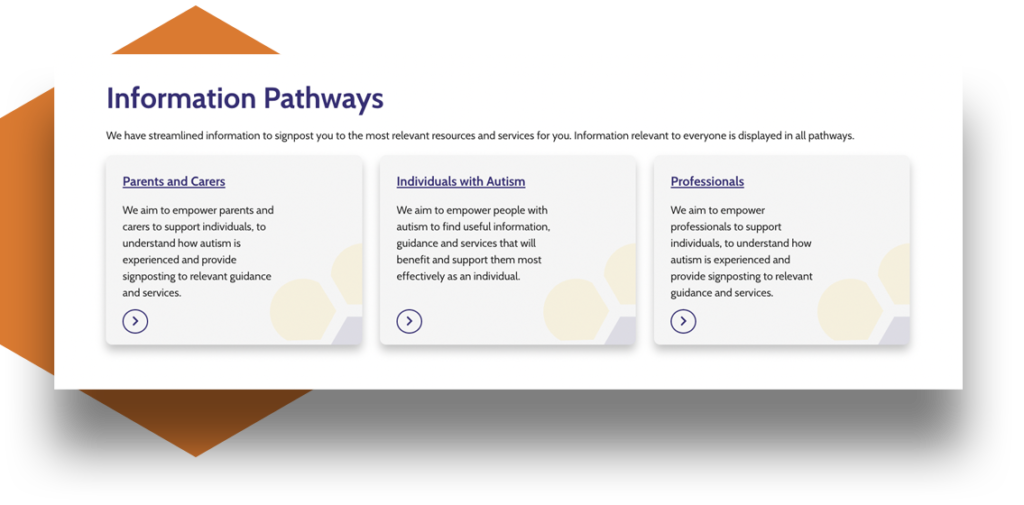 These user journey breakdowns create a more intuitive flow through the Hub. Embedding categorised home page Gutenberg blocks, give the user instant access to relevant information.
We implemented a tagging structure to avoid page duplication. These tags allow content to appear in multiple areas, without having to update various pages at a time.
---
Implementing user-friendly website navigation that also assists with SEO
Using WordPress, our team of experts created a simplistic website design structure, with clear taxonomy.
As many of the WSUN Autism Hub users having a disability it was key to ensure that the site was Web Content Accessibility Guidelines (WCAG) compliant and built with autistic users in mind.
With users navigating through a series of signposting, information and resource pages, providing clarity on the user journey was essential. That's why the WSUN team consulted with an autistic user-group along each of the iterative development phases. The team presented HeX with useful feedback, providing input into the user journey, resulting in us stripping back the website and simplifying its visual appearance and useability.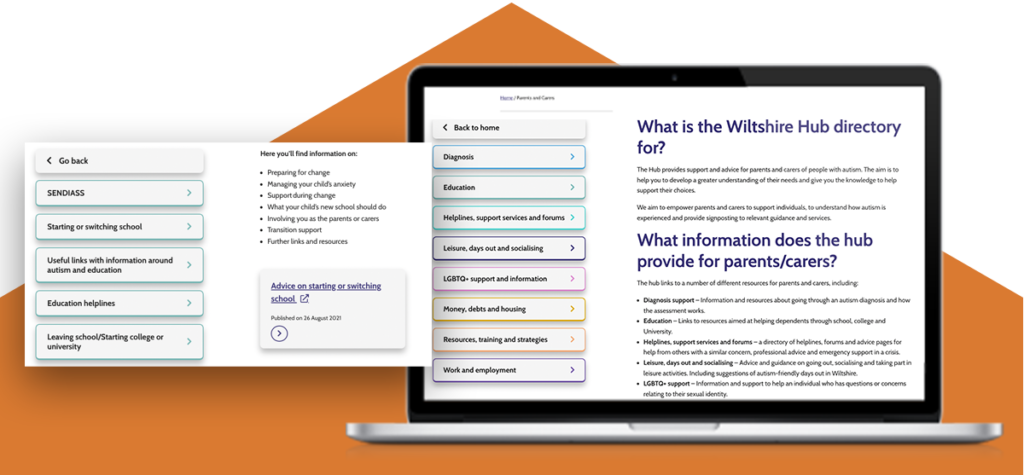 Our experts implemented a clear left-hand navigation sidebar. The sidebar provides a breakdown of navigational topics to guide the user through the site with ease. Allowing users to navigate backwards and forwards through content, removing any journey disruption.
These areas were colour-coded, changing on each page to replicate the same as of the menu. This provided consistency and made each area easily identifiable to the user.
We created summary boxes for pages with large amounts of content. Summary boxes provide bullet-pointed lists that sum up the content on the page. Summaries reduce cognitive load amongst individuals and can assist those short on time with page navigation. This addition both aids in navigation and enhances a website's Search Engine Optimisation (SEO).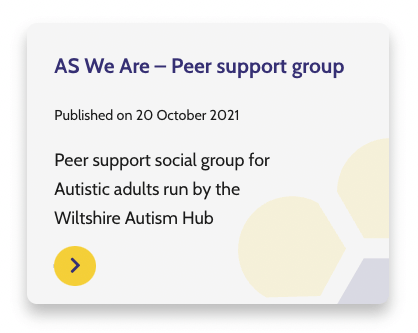 Our experts embedded identifiable signposting to external services across the Hub. Each of these links sat within its own dedicated block, with a brief description of the service on offer.
To aid with the directional flow of the website, our team highlighted related content pages on each page. These boxes include topics, services and/or pages that are relevant to the current page.
---
Embedding an intuitive search facility
Our accessibility experts embedded an important navigational element on the homepage of the Hub.
An intuitive search facility, assists users by enabling them to search for either keywords or needs. This facility assists in navigation for those that may not know the correct phrasing in which they are searching for.
By accessing this element, users can easily source support and resources across multiple website channels.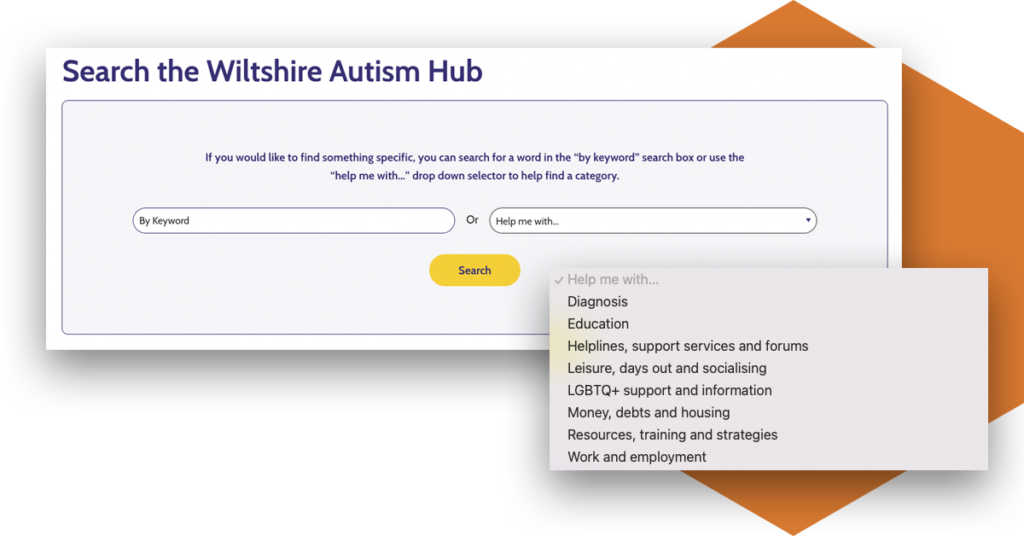 ---
Shaping the main WSUN website to aid with the Hub's accessibility
The main WSUN website was poorly structured, not mobile responsive, and inaccessible for some users. We knew the necessity in implementing our new inclusive design framework across all areas of the website.
We undertook this work free of charge. This was to enable a wider audience, regardless of what technology they were using, to access these vital resources and support services.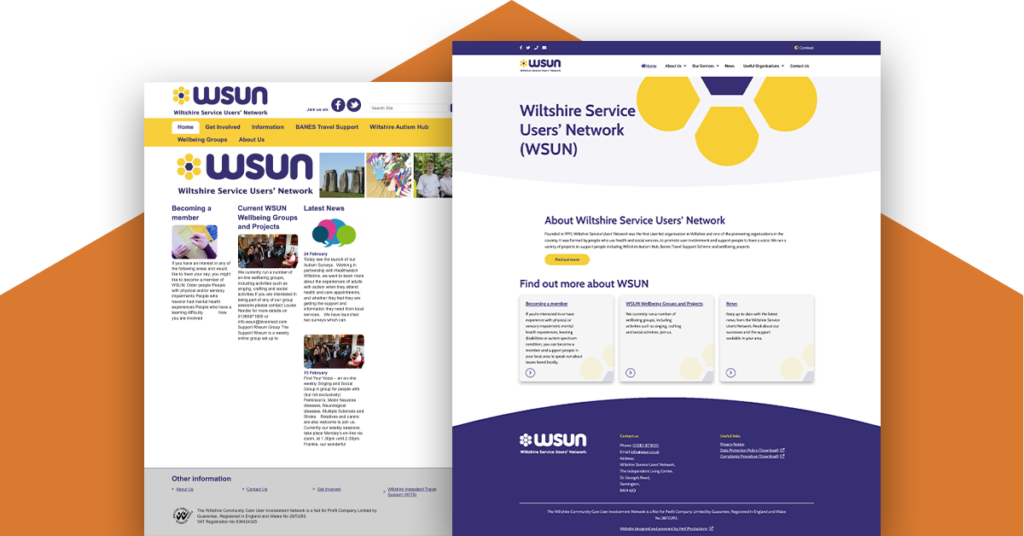 ---
Achieving accessibility on Wiltshire's Autism Hub
HeX has turned WSUN's detailed brief and vision into an accessible, easy to navigate, Autism Hub.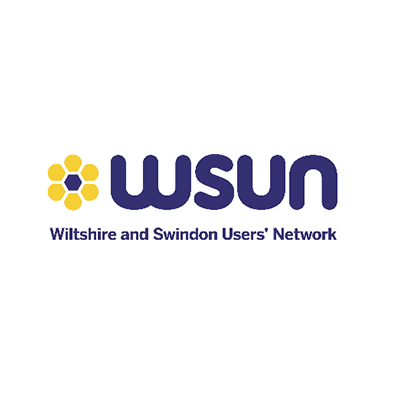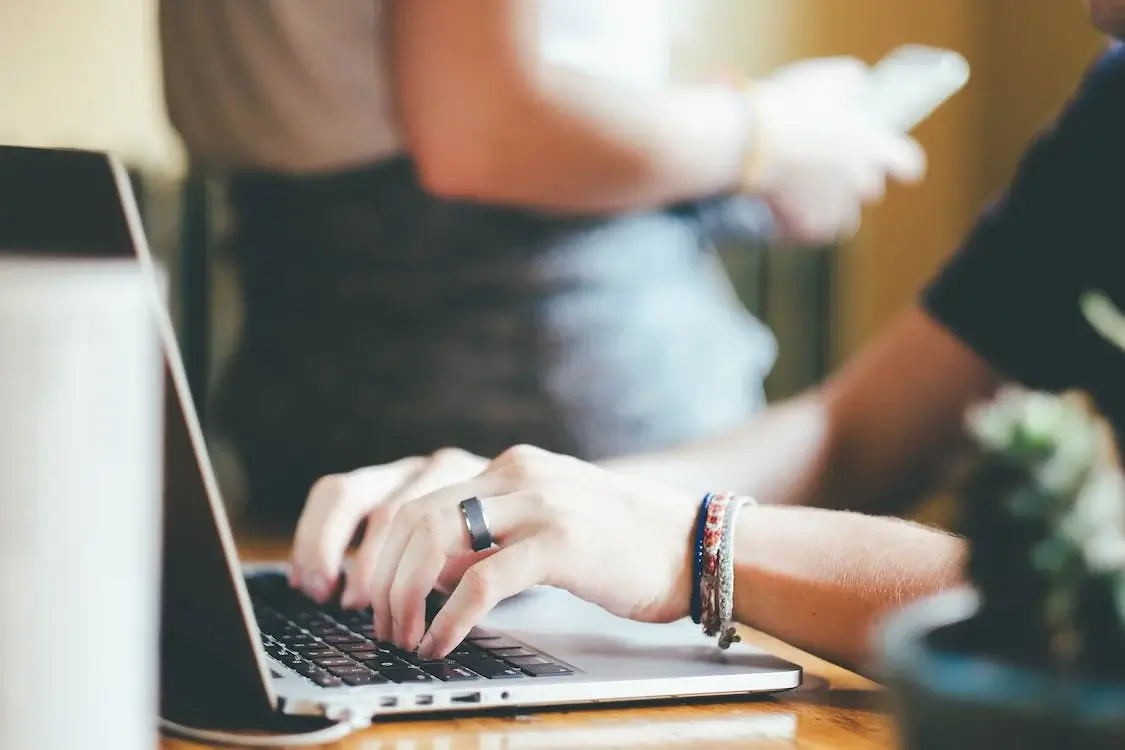 We implemented clear categorisation blocks, an intuitive search facility, and clearly signposted related pages. This has achieved a simplistic user experience, flowing directly to the information that they require.
Many of the users of the Autism Hub have accessibility needs. Some with visual impairments, which requires the use of a screen reader. Others struggle when too much information or colours are on a page, and some lack digital confidence and skills. All of which required a simple and accessible website, which we have now achieved.
Summary boxes, providing details of the services, resources and contact methods, assisted users in being able to efficiently locate key information. These summary boxes also helped the Hub in achieving a greater SEO.
A contrast button has been added to the top navigation bar on every page. This feature can easily be toggled on and off for those who require to see a website in 'dark mode'.
To ensure that the Hub reached a wider audience, HeX took the time to also update the main WSUN website. This work was undertaken for free, implementing the same accessible design as the Hub. By doing so, all users can now access wellbeing resources to aid support with mental health, anxiety and help individuals to gain independence.
Working with the WSUN team
Throughout each iterative step of the process, our experts provided project consultancy. Our collaborative working approach with the team at WSUN and their vital user-group input, gave us a fresh perspective on what autistic users need from their Hub. Frequent online meetings helped to guide both of our teams through the design and development stages of the project. Giving the opportunity for any questions or feedback to be addressed at an early stage.
We provided Accessibility Awareness Training to give an understanding into the recommended design decisions. This training demonstrates how assistive technology users navigate a website and the accessibility barriers that they face.
Due to time constraints, our team stepped in to offer content support. Uploading the Hub's page content throughout the website, and tailoring it accordingly for each content block.
In WSUN's project brief, it was clear that staff were struggling to update the previous website. Therefore, it was of great importance that website editors could maintain their web estate upon project completion. HeX experts gave Content Editor Training to those responsible for maintaining the website, empowering the WSUN editors to consistently and confidently keep the Hub updated.
The HeX team continues to support the Wilshire Service Users' Network and we look forward to working with them on future website development.
---
More case studies about web design and development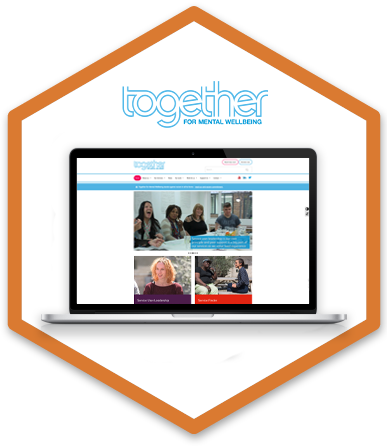 10 years ago, our journey began helping the charity to showcase their range of mental health and wellbeing services, ensuring that this important support was accessible for all.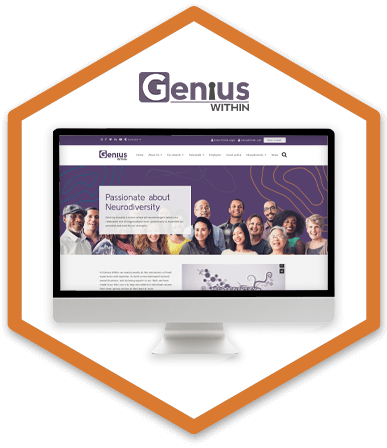 Due to our experience of user-focused design and accessibility experience, we were secured the contract with Genius Within to revamp the neurodiversity specialist's website.