It's World Photography Day today, and we investigate everything to do with images when it comes to your marketing strategies – what images work best, and how you can source some images.
Today marks World Photography Day, and instead of sharing some cool images that we think deserve some recognition, we're letting you know how you can take advantage of images and use them to help market your business.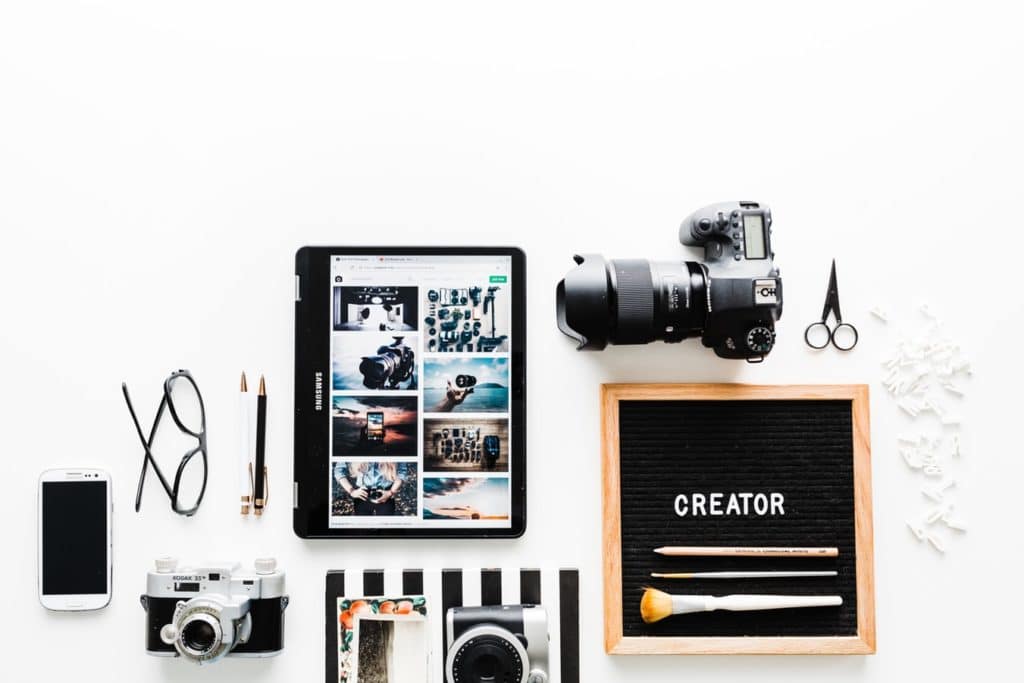 In the age of visual culture, everybody has a camera in their pockets, with 3.3 billion camera phones predicted to be in use, we are entering a dynamic era around image creation and content. But how can you, as a business, take advantage of this image culture?
Images in Practice
Images in articles
Using images in articles can give a boost to its page views. In fact, articles containing images have 94 per cent more page views than articles that don't contain any images whatsoever. It's also worth noting that the top blog categories for images, where images are most desired are news content, political content and sports content.
Social engagement
Social posts also benefit from the addition of images, according to analysts of Facebook, posts with images have the third-highest engagement rate. The current (average) engagement rate for a normal link post on Facebook is about 150, whereas photos are about 250, according to BuzzSumo.
E-commerce decisions
High-quality imagery on e-commerce stores is one of the most important things to customers, according to a National Retail Federation poll in the United States, more than 67% of respondents claimed that a high-quality image was 'very important' when it came to influencing their buying decisions. 63% said images were more important than product-specific information, and 53% said an image was more important than the reviews.
Local search
Having an image gives any business more credibility. But, more surprisingly perhaps, when searching, 60% of customers are more likely to contact a business that has an image showing up in local search results. And, only 20% of people said that an image would categorically not affect their buying decision.
Press material
According to PR Newswire, which analysed more than 10,000 press releases, including images in a press release increased views by 14%, adding a video to that increased views by 48% and adding a link or other media (soundbite, graphic, etc) increased the total views by more than 77%.
Types of images
There are a variety of images that you can use in your marketing, some are more effective than others. We run through some types of images you're likely to have access to or can make use of.
Real photos
Perhaps the most effective of them all is a real business photo. Whether this is a professional photo of your business' staff or more informal selfie-like photos of business activities.
These work best on social media to add a bit of personality to the brand, but can be used in blogs, especially company news articles. If you have the funds to hire a photographer, or are lucky enough to employ one, you can also use them to create your own generic photos that can be used in general publicity for the business.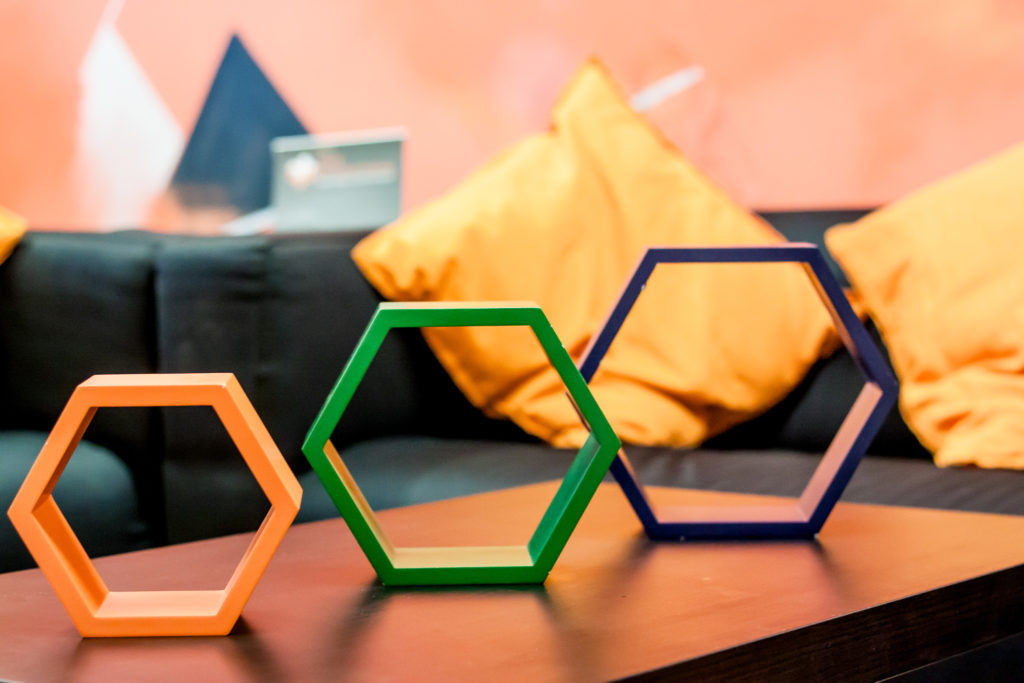 Stock photos
There are millions, if not billions of stock images online to be chosen from. They are pre-taken, professional photos. You can choose to either pay for stock images or use free stock images, depending on what you're after. You're likely to stumble across the following types of stock images, and it's important to understand exactly what you can and can't do with them.
Creative Commons – This means an image can be used for free and attribution is heavily recommended (or sometimes required)
Editorial use – Means an image can only be used for editorial purposes only, not commercially such as with a product description.
Public domain – An image can be used however by whomever, and attribution is not required.
Rights-managed – means an image can only be used once, i.e. you can't use it twice in promotional material, only once.
Royalty free – means an image can be used for any purpose but can't be edited or resold.
Whilst stock images are an efficient and convenient way of marketing things, they are not always on-brand, and can do more harm than good, especially when an obvious stock image is used. For editorial pieces, or blogs it's not as much of a problem, but product photos and staff profiles, stock imagery doesn't make much sense.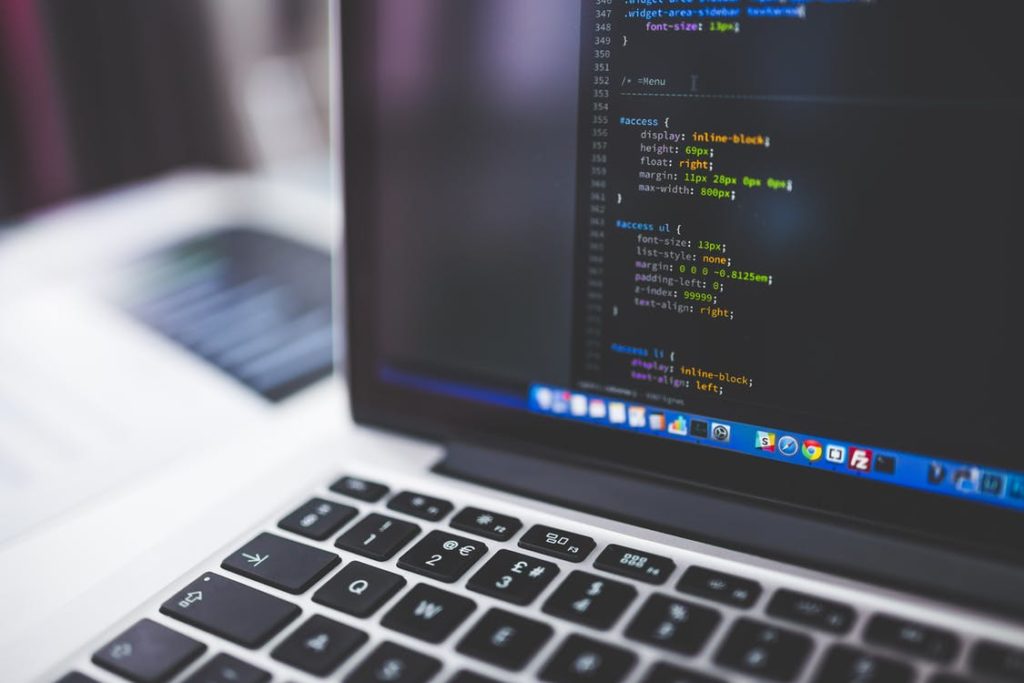 GIFs
A Graphics Interchange Format (GIF) is an animated visual from a video, TV show, or film. Those who are a bit savvy can create GIFs of their own, using a range of free tools online. Below is a GIF of James flipping HeX branded beer mats.
So, I enjoy flipping bar mats, we've now reached new heights at @WordCampLondon @HeX_Productions #championtosser #WCLDN. Huge thanks to @Sephsekla for the GIF pic.twitter.com/L0AU54JdNe

— James Hall (@Horlix) April 14, 2018
Alternatively, you can pull GIFs from a pre-made library like Tenor. They tend to entertain or humour a reader, so if your brand isn't about making people laugh, or adding a bit of personality into the brand, then it's perhaps worth staying away from them.
Branded images/graphics
Marketing doesn't always have to be real images; any sort of visual stimulation can add loads of value to your writing and website. Simply including a relevant graphic in a blog, that fits the business' brand guidelines may help break up text and keep people interested in the writing.
There are plenty of online tools that can help you develop graphics. Or, if you have a graphic designer at your business' disposal, getting them to create a bank of graphics may be beneficial.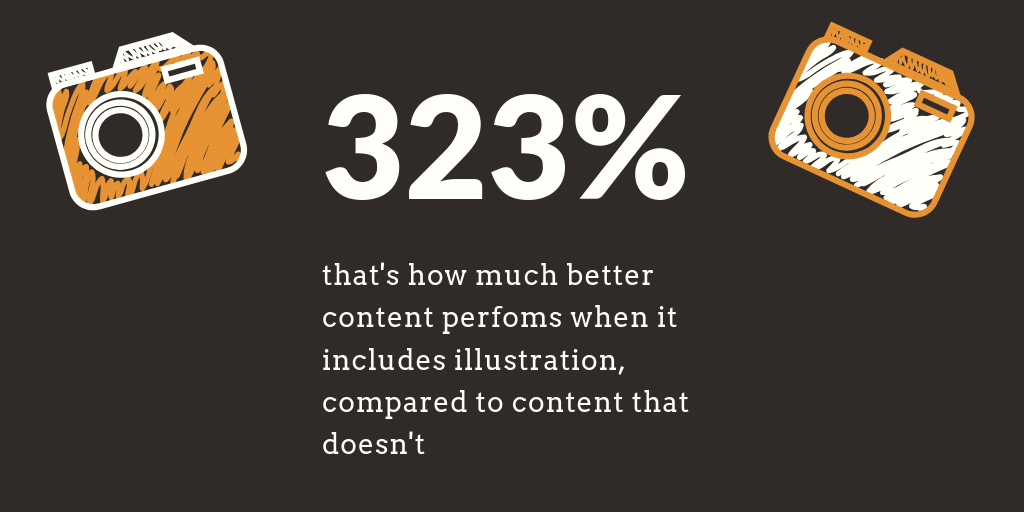 Infographics
Ever seen those images that give you loads of stats and graphs in one handy graphic? That's an infographic, and they can be particularly effective. Usually, infographics will increase web traffic by up to 12%.
If you're publishing an in-depth blog post or article, maybe consider creating an infographic to accompany it.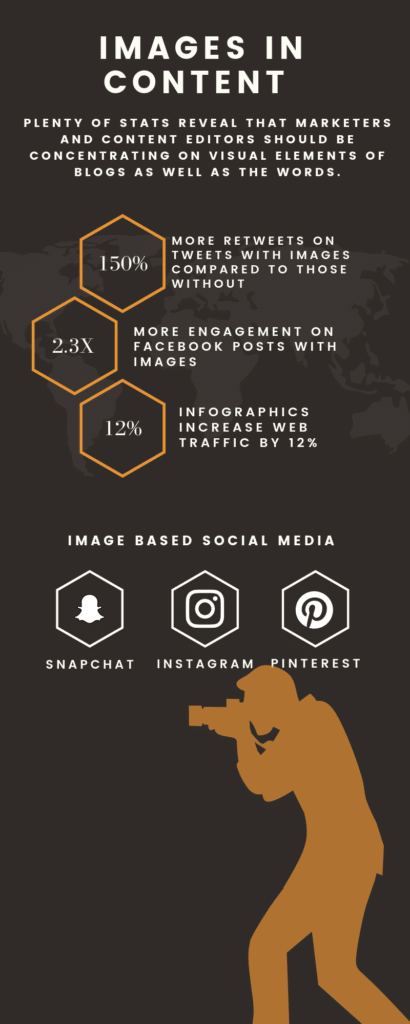 Conclusion
A Content Marketing Institute study recently found that business owners put image content at the top of their priorities. So, as it's World Photography Day, we encourage you to start your image library now, and create an image content plan so that you can reap the rewards of image marketing.
If you need help to develop your marketing content plan, get in touch with us.