Case study brief: Audit testing and accessibility training for Queen Mary University of London
Queen Mary University of London (QMUL) is a leading research-intensive university. The global university is committed to opening doors of opportunity. With staff and students from over 160 nationalities across its community, it is one of the most diverse higher education institutions in the world.
QMUL are strong diversity advocates, who want to improve lives through academic excellence. This is why, they approached our team in need of website accessibility audit testing to ensure their website is accessible for everyone.
Creating streamlined customer journeys through audit testing made this case study unique
Through thorough automated and manual audit testing, our experts could evaluate the site's user-experience. In particular, our team focused on key issues within the site's course search feature. Search issues were preventing users from being able to access vital resources. This included core information such as on courses, accommodation, fees and funding, and research topics. 
By helping to remove the identified accessibility barriers we could ensure that users could easily access web content on any device they may use. In return, providing an equal opportunity for all of their students.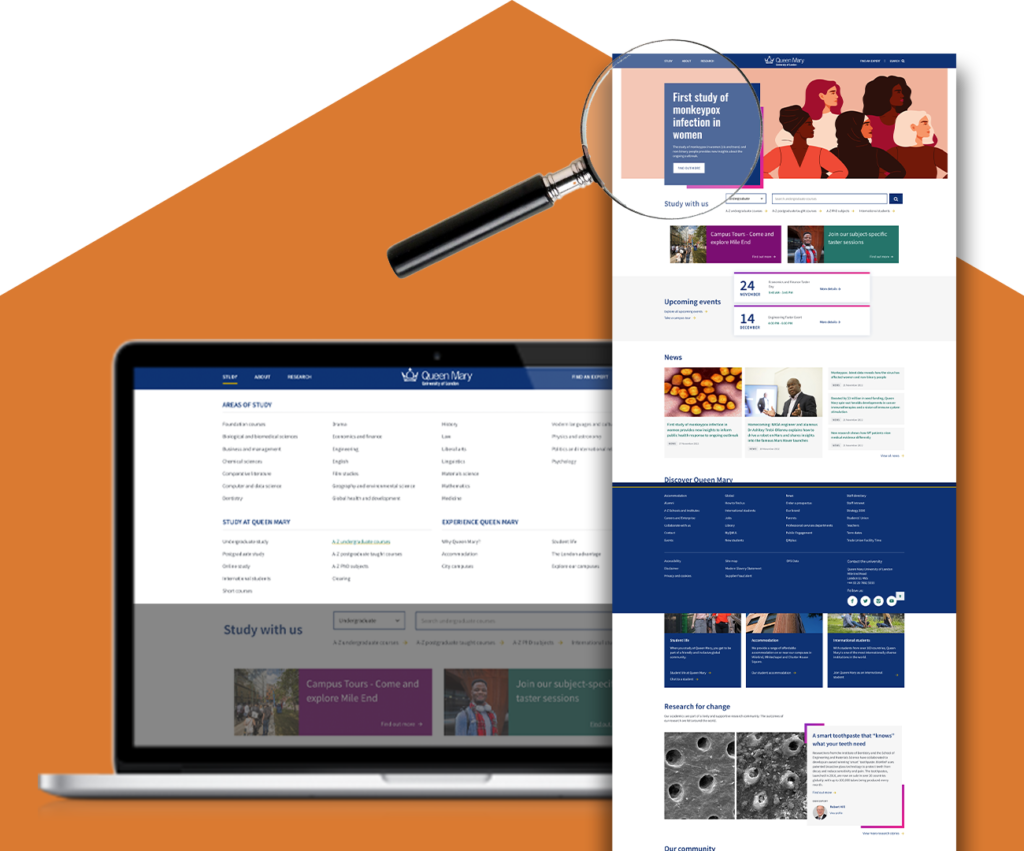 ---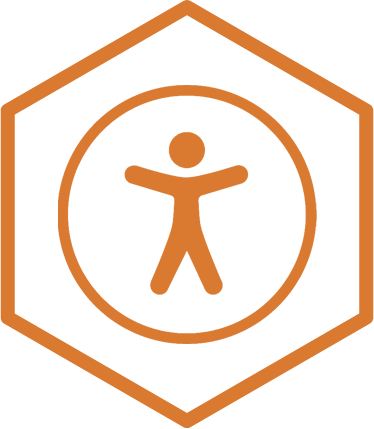 Audit and development activities delivered
---
The HeX approach to accessibility audit testing
Our team performed rigorous automated and manual accessibility audit testing to seek out accessibility obstacles. This entailed:
Automated audit software scanning of the QMUL web pages.
Manual user testing. This was with the use of assistive technology devices and software, to assess the user experience.
HeX developers performing technical reviews of the site, to assess codebase errors.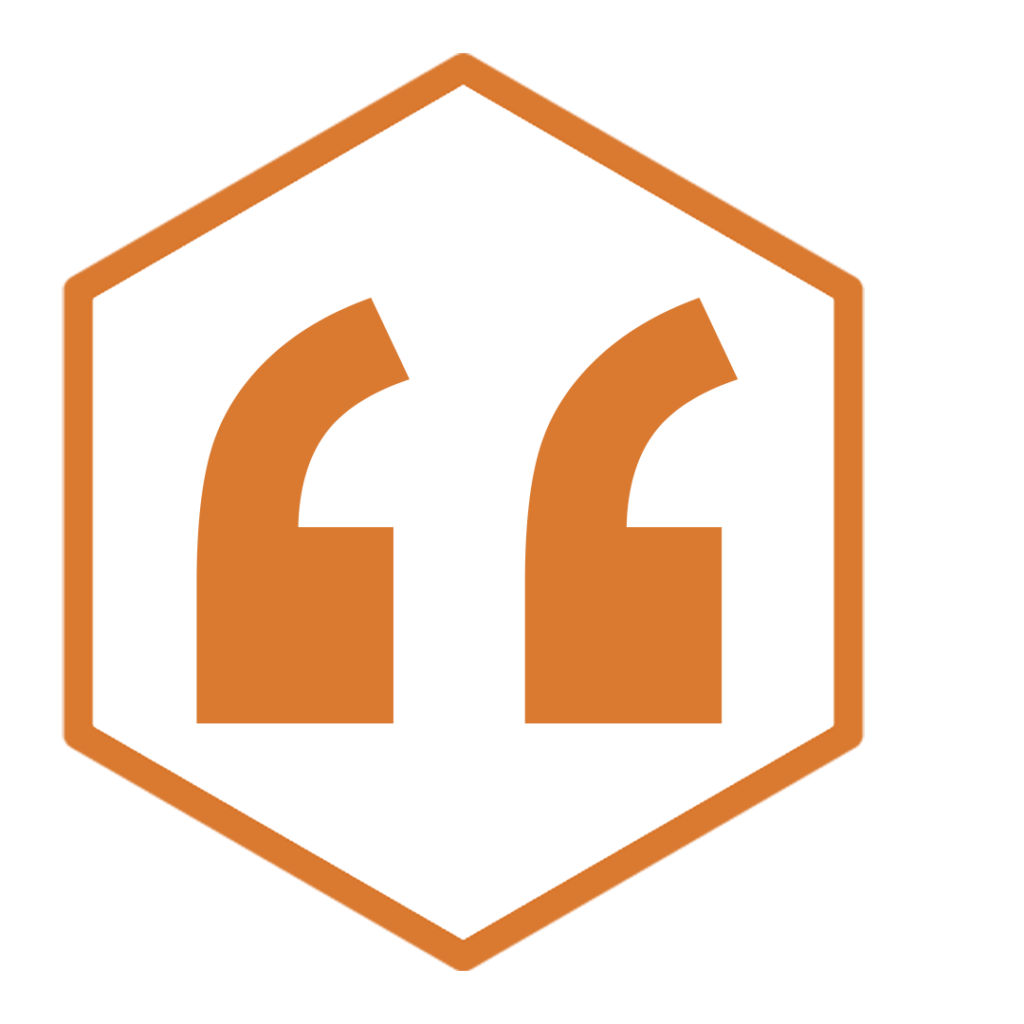 Even though we had been looking into the accessibility of our site, the audit brought to our attention issues we hadn't previously considered.
Hérick Moukodi: QMUL Senior Web Developer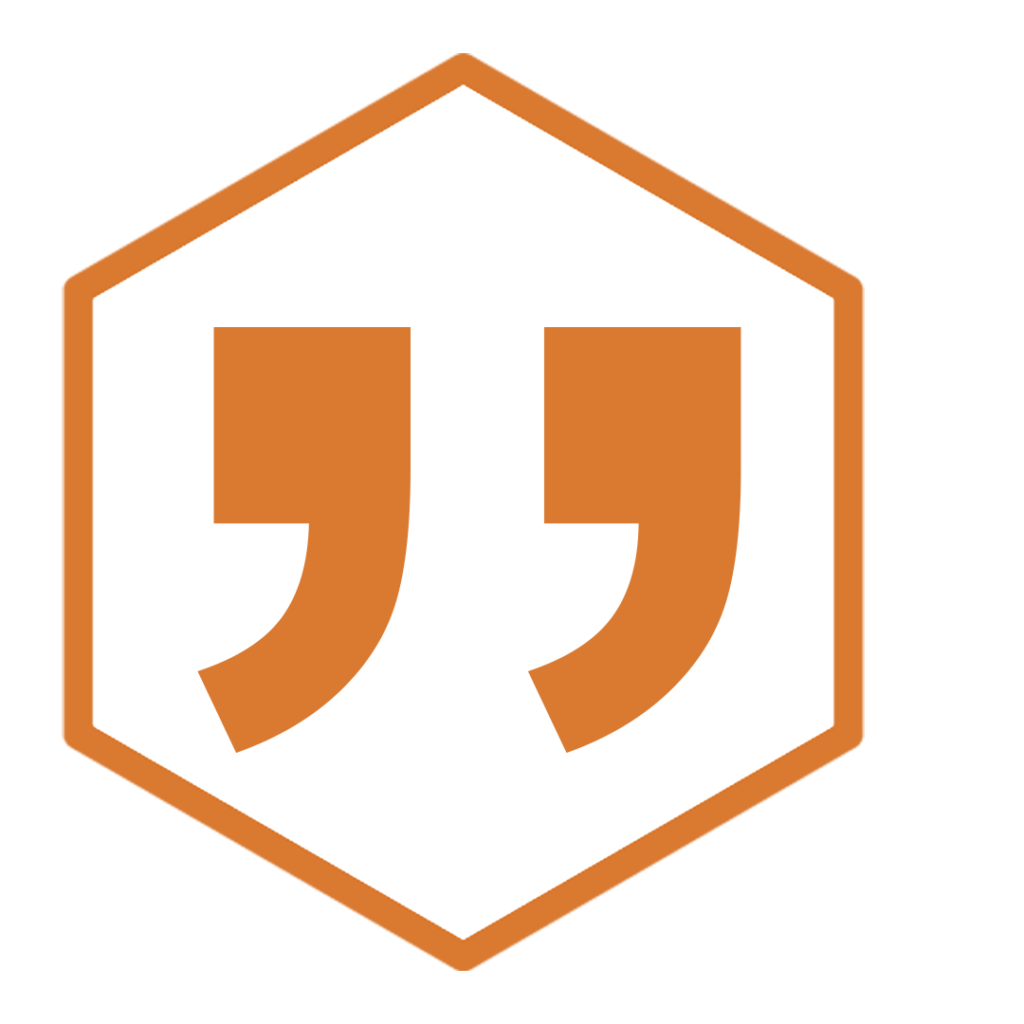 Accessibility audit testing discoveries
During this intensive assessment we discovered a range of accessibility issues. These online barriers would prevent site visitors from accessing key university and course information. Combining these findings into robust guidance. Our team provided simple walkthroughs of the error locations and why they failed to meet Web Content Accessibility Guidelines (WCAG) standards.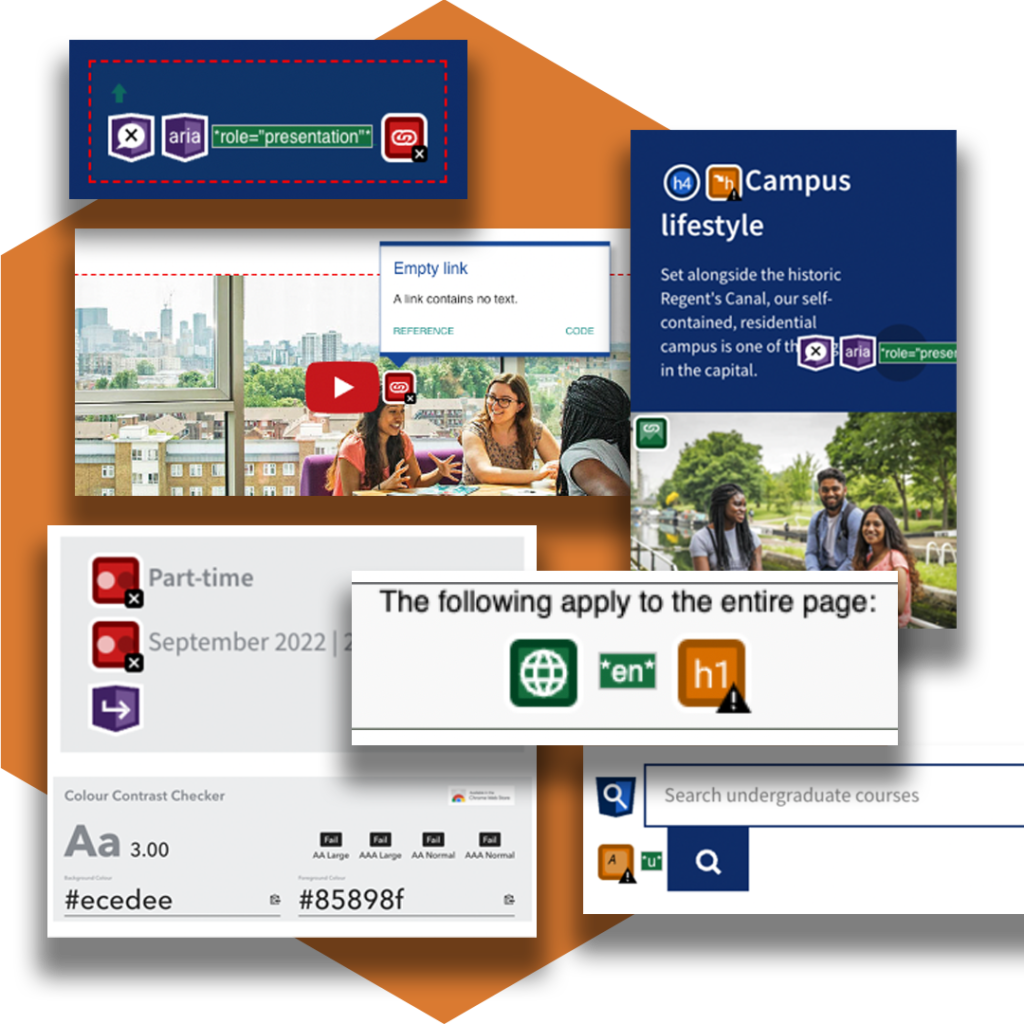 Some of the common issues found were:
No skip-to-content links, leaving users to tab through an entire menu to get to the content.
Low-vision users had no visual reference as to whereabouts they were on a page. This was due to links not having focus states.
Insufficient colour contrasts left users unable to see key site elements, such as buttons.
Imagery was missing alt text, not giving screen reader users an equal experience.
Keyboard-only users could not access the site's main navigation.
Logical reading orders were not presented when tabbing through site pages.
Form labels were missing from course search boxes. This left assistive technology users unsure what information to complete.
Missing and skipped heading levels created navigation problems.
ARIA labels weren't used on some site elements. This left users unaware when side navigation bars were expanded or unable to play video content. Leaving students unable to access core information.
An array of empty links left no context for those using assistive technology. This prevented users from accessing course content and unable to navigate freely around the site.
---
Providing comprehensive accessibility training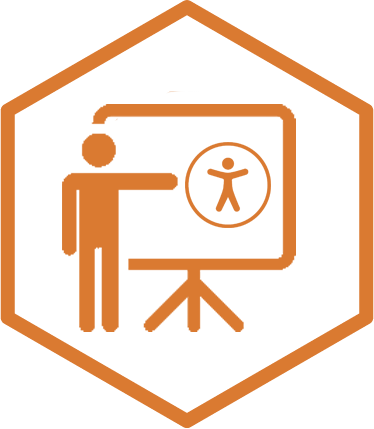 Following on from the audit, HeX trainers upskilled the university's web development team and content and branding team on all areas of accessibility.
This training was specifically tailored around areas where their team required their skillset enhancing. Focusing on:
Creating a deeper understanding of accessibility awareness and WCAG standards.
Content editor training. Looking into content, documentation, and social media structure and accessible design.
Website accessibility training for developers. Providing practical steps developers can take to build and maintain their sites accessibility. Giving the team knowledge on how to test their own content. Along with looking into good practices and enhancements through semantic code and the use of ARIA labels.
---
Queen Mary University of London accessibility audit and training outcomes
Our intensive accessibility audit testing sought out an array of barriers preventing users from accessing site content. Ensuring that once the findings were resolved the site would meet with WCAG 2.1 Level AA standards.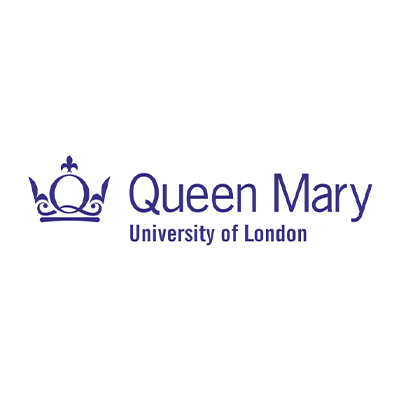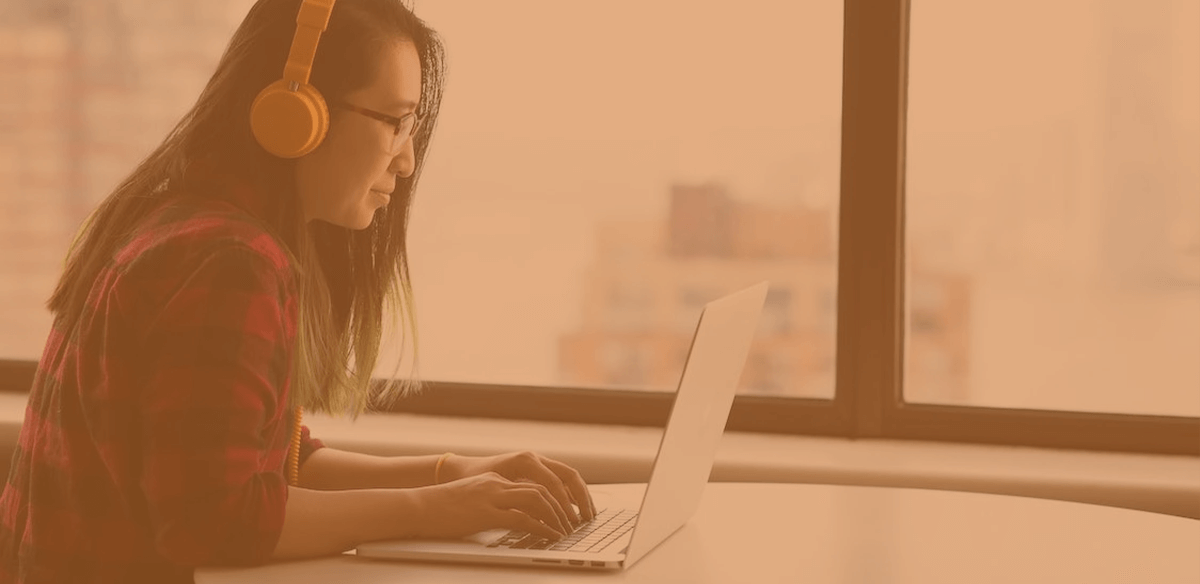 Robust accessibility training empowered the QMUL content, branding, and developer teams to place accessibility at the forefront of every project that they undertake.
A thorough handover took place with the use of assistive technology to provide live demonstrations to the team. By doing so, we could show how users were affected by these digital barriers. This helped the developers to gain a greater understanding of why site elements needed constructing in a certain way. In return, enabling the team to avoid implementing these errors in the future and arming the team with the to skills maintain an accessible site upon project completion.
Shortly after, QMUL had an audit by the Government Digital Services. We're pleased to say that due to our rigorous testing process creating a roadmap of accessibility changes the QMUL website was deemed accessible.
---
More case studies about accessibility audit testing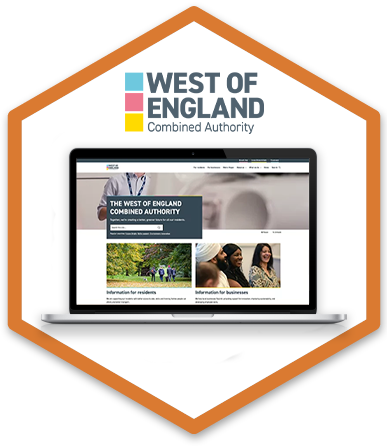 As a public body, WECA required their site to be in line with the Public Bodies Accessibility Legislation, meeting WCAG 2.1 Level AA standards.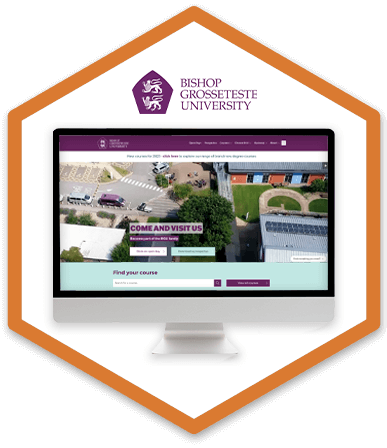 BGU approached HeX to conduct an accessibility audit test on their website to ensure that all students have equal access to their platform.