Brief
Children's home, Footsteps to Futures contacted us to help re-invigorate their website to reflect the amazing work that they do in caring for children in a therapeutic environment. They wanted an easily navigable website that was clear and concise where they could share their expertise and allow people to see what they do as an organisation.
Approach
HeX created a clear and easy to navigate website using WordPress. We designed fully responsive web pages that allowed the user to navigate the website whether they are on the go or at home. We developed a nav bar, banner and jobs page to allow for further engagement from users.
Outcome
Once we had finished the project, Footsteps to Futures had a website which they were proud to show off to clients, future employees and people who wanted to understand more about the therapeutic care community. They have also been able to post jobs on the brand new jobs board, making it easy to get more staff.
A little more detail…
Working with Joe Rafter at the Footsteps to Futures organisation, we have totally redesigned and reinstalled the therapeutic community children's home's website.
Using our WordPress base, we were able to make fully responsive pages that look nice and are easy to navigate around.
We installed a navigation bar, banner, and jobs page to allow people to apply for certain positions within the company. We wanted to promote the hard work that the service provides to improve the lives of young people with their warm, safe and therapeutic living environments.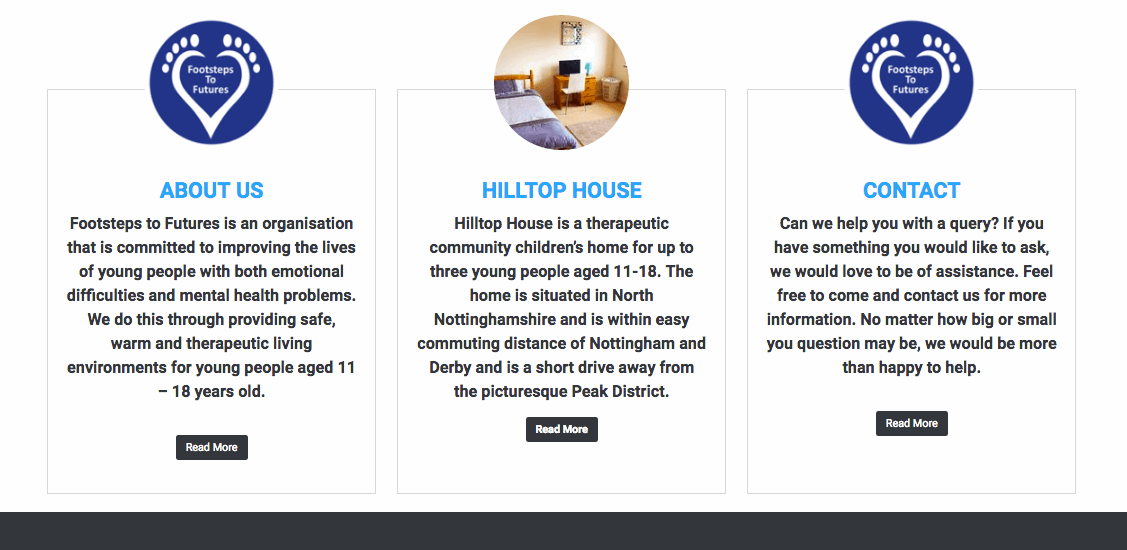 Based in Nottingham, the organisation provides a safe home and access to a psychological service with specialised bespoke care plans that directly address their needs and day to day living.
We wish Footsteps to Futures the best of luck with their new site and look forward to seeing how they build the jobs page and website functions further.